Solutions
Cerexio Smart WMS - Warehouse Management System
Get Cerexio Smart WMS now, and grow with the Industry 4.0 technologies that optimise your storage areas and distribution centres via efficient information systems. From a robotic forklift fleet that uses advanced AI, AGVs, RGVs, IGVs, AMRs, UAVs, RFIDs, NFCs, cameras and sensors to navigate your warehouse operations, and more.
Unlock Warehouse Automation with Cerexio Smart WMS.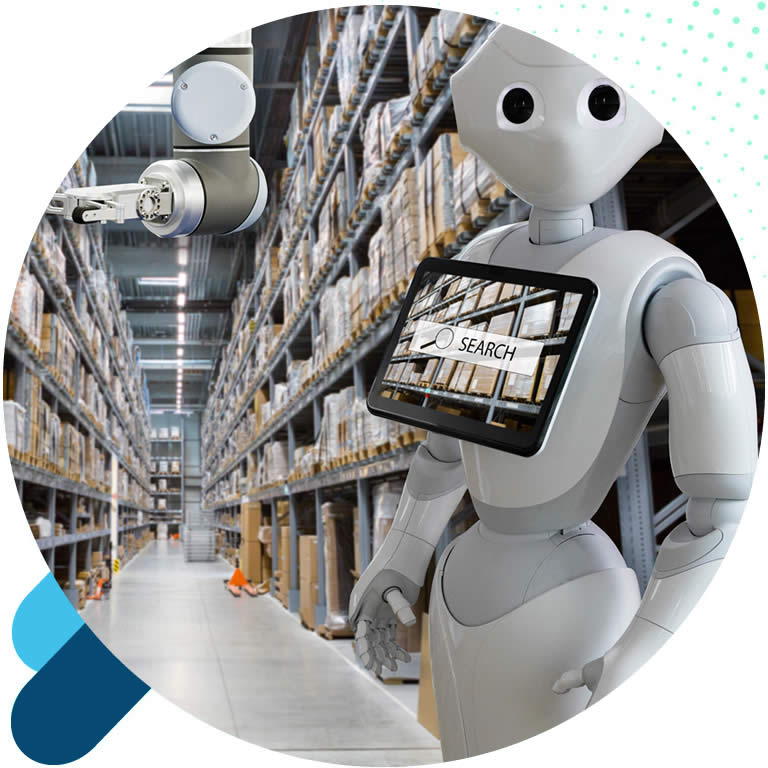 IoT in your Warehouse
RFID technology, IoT-integrated systems, wearables, sensors to improve your operational transparency, real-time product tracking and higher employee productivity. We also facilitate end-to-end inventory tracking, vision picking, automated tasking and more.


Autonomous Systems
We help companies to support their digital transformation to industry 4.0-defined technology advancements. Cerexio Smart WMS connects with Robotic Forklifts, Cameras, Sensors, AGVs, RGVs, IGVs, AMRs, UAVs, RFIDs, NFCs and other smart devices seamlessly.
Advanced WMS Features
Comprehensively consolidate all of your critical warehouse data into one easily accessible platform to give select members of your supply chain a full view of your operations, lightning-fast reporting, real-time statistics, and accurate planning capabilities.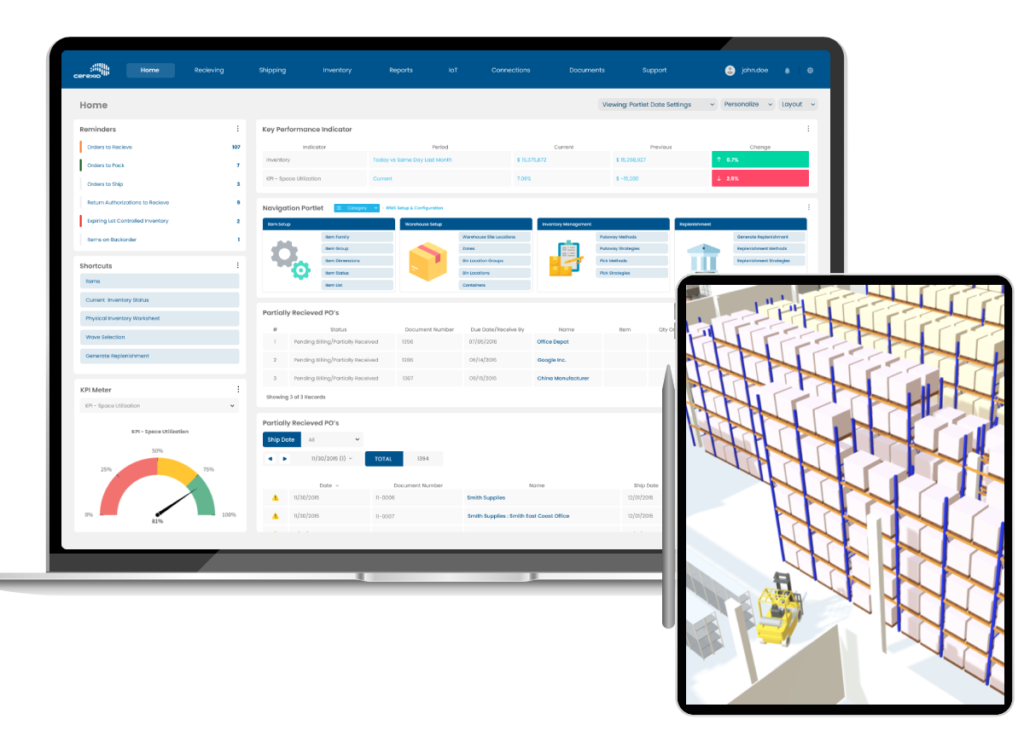 Why Choose Cerexio WMS System?
Why do you need Cerexio Smart WMS?
Cerexio Smart WMS is a fully-fledged cloud-based Warehouse Management System that offers technological tools to execute basic inventory management or advanced WMS tools. The IIoT capabilities of this solution make it highly integrative with any autonomous device, core systems, cloud, or modules for predictive AI technologies to make your warehouse smarter, punctual and futureproof.
Experience the Efficiency of Warehouses of The Future at Present With Cerexio Smart WMS
Cerexio WMS 4.0 is a suite that accommodates an assortment of technological capabilities that automates and optimises all your end-to-end warehouse operations. It allows warehouse custodians to leverage AI-driven process schedulers, digital twin environments, predictive tools, and other technologies to make faster, reliable and success-guaranteed decisions.
Improve Customer and Supplier Relationships
Coordinate inbound and outbound operations by communicating with suppliers and transportation services to ensure orders are received and shipped as efficiently, punctually and effectively as possible.
ASRS System Compatibility
Meet the dehumanised future of warehousing by powering up your ASRS Systems with our Warehouse Management Software. Fulfil your tasks seamlessly, resourcefully and agilely within a single console.
Crank Up Interconnectivities with Our APIs
With unrivalled interconnectivity, you can ensure that your warehouse is not suffering from spontaneous inventory, stockouts or space limitations. The multi-protocol technology will keep everyone updated every time.
Smart Layout Designing Tools
Calibrate the warehouse asset deployments and inventory routes to meet the excellence in smart order fulfilment and timely deliveries with the smart layout designing tools in this warehouse software.
Connect with Autonomous Systems
Integrate any cobot, robotic forklift, camera, sensor, AGV, RGV, IGV, AMR, UAV, RFID-rigged machine, NFC and other critical smart devices to ensure that your warehouses have the best levels of Overall Equipment Effectiveness constantly.
Inbuilt Systems
Cerexio Smart WMS is seamlessly integrable with Enterprise Resource Planning Systems, Building Management Systems, Manufacturing Execution Systems, Asset. Management Systems and more, thus enabling a consolidated point for comprehensive information.
Automate Data Collection
This Warehouse Management System offers ubiquitous warehouse automation that enables futuristic and smart data collection, transfer and storage that feed cloud-based analytics tools paired with mobile barcode scanners to create a low-cost, low-risk path to automation.
On-prem and Cloud-Based
This WMS is deployable on any platform - cloud-based, on-prem or web-based. Either way, it offers the same unchallenged warehouse automation capabilities for your warehouse stakeholders.
AI and Predictive Technologies
Our Warehouse Management Software will help you eliminate human error, capture critical warehouse performance and inventory data, and store it in a centralised cloud database using well-trained AI and predictive tools.
Digital Transformation Your Organisation Today
Our Experts Ready to Help You
Cerexio WMS Software
How does Cerexio Smart WMS optimise Inventory Management?
Using automation to improve warehouse operations brings a wide range of advantages, from running more efficiently, smart and prioritised order fulfilment to minimising human error. Here's a list of the most commonly cited benefits that contribute to optimising the inventory management of your organisation: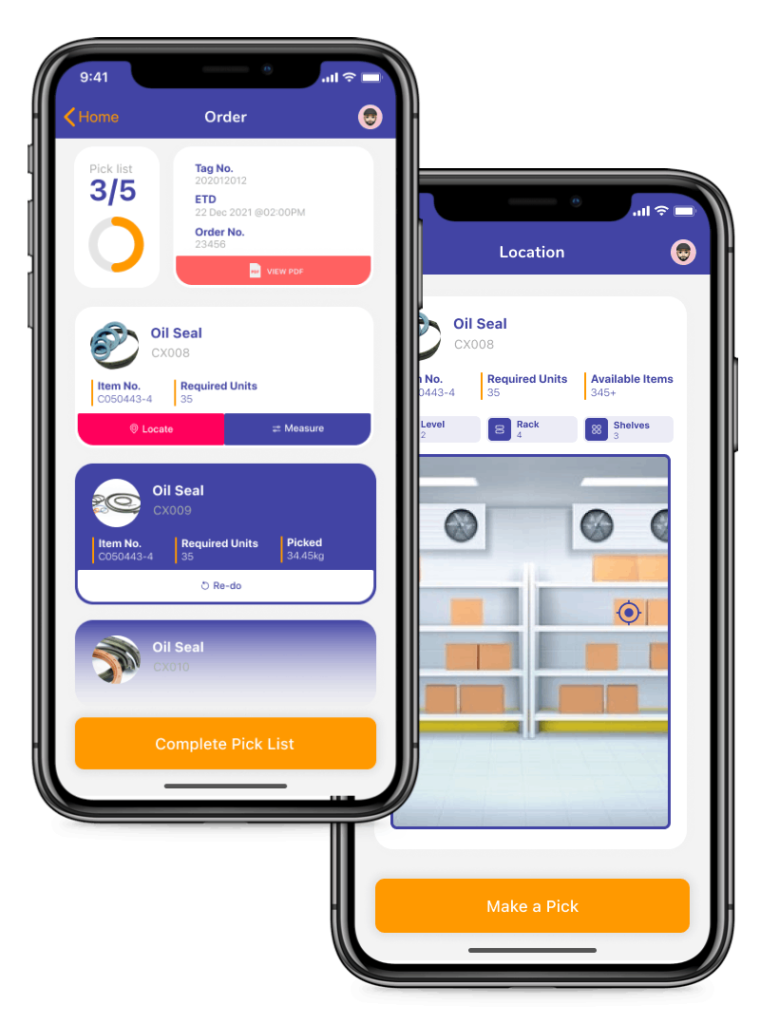 Grasp expected positive effects, savings and improvements, such as improving Storage Space by 30%, optimising stock reduction rates by 50% and reducing perishable goods losses
Growing warehouse throughput, lessening shipping errors and inventory losses within a singular effort to accelerate the smart digital transformation of your warehouse
Integration platform for integrating with critical stakeholders of your ecosystem like third-party logistics (3PL) providers, clients, suppliers, and others.
Use AI-powered AGVs, IGVs to find the most efficient route for picking products. It can select the best box type for a shipment based on the type, number, size and weight of the products
Explore your warehouse via a 3D/4D Digital Twin. It is an interactive model of your warehouse be accessed anywhere via the web or mobile interfaces
Cerexio WMS Software
Benefits of Cerexio Smart WMS
Cerexio Smart WMS enables a range of benefits and advantages that you cannot miss in expediting your warehousing and logistics system. Here are some of the powerful perks of Cerexio Smart WMS
AI
The AI technology of this solution is well-exposed to realistic operating environments to ensure that your warehouse operations are not hindered by spontaneous performance limitations, equipment failures or rapid order demand changes.
Predictive Analytics
This Warehouse Management System is advanced with unchallenged predictive technologies that empower simulation platforms to deliver warehouse critical event-driven insights.
IIoT-driven Robotics
Your smart warehouses can get the fullest employment of robots like Articulated, Cartesian Coordinate, Spherical Coordinate, Cylindrical Coordinate, Delta, Parallel Architecture, SCARA robots and Serial Manipulators.
Cobots
Optimise the employee work experience with faster order fulfilment, precise order handling, safety and easier tasks completed by enabling Cobots- Collaborative Robots. This technology increases skilful employee retention and warehouse efficiency singularly.
Impending Risk Analytics
Cerexio Smart WMS offers advanced risk mitigation and loss recovery tools that help your warehouse managers and other decision-makers to visualise impactful imperatives that affect operational and managerial activities.
Back-Office Automation
Cerexio offers a full suite of technology solutions and services for warehouse automation, starting from advanced warehouse management software suites to organisation-specific PLC and instrumentation services.
Autonomous Machine System
Employ smart machines networks that utilise the use of AGV, AMR, IGV, RGV and other smart industrial mechanical assets to fasten your journey to smart automation and advanced manufacturing by using Cerexio Smart WMS.
Contact
Request A Free Demo/Consultation