Solutions
Enterprise Integrator
Cerexio Enterprise Integrator is an API-centric and distributed integration software that supports any deployment option- cloud, web-based or on-prem. This state-of-the-art integration technology ameliorates the hybrid synchronisations between the organisation-specific integration patterns, allowing tour data-dependent organisations to integrate data sources, on-premise systems, cloud-native applications, hybrid systems and more components effortlessly.
Overcome The Dire Complexities of Disparate Point-to-Point Integrations in Your Data Flow with Cerexio Enterprise Integrator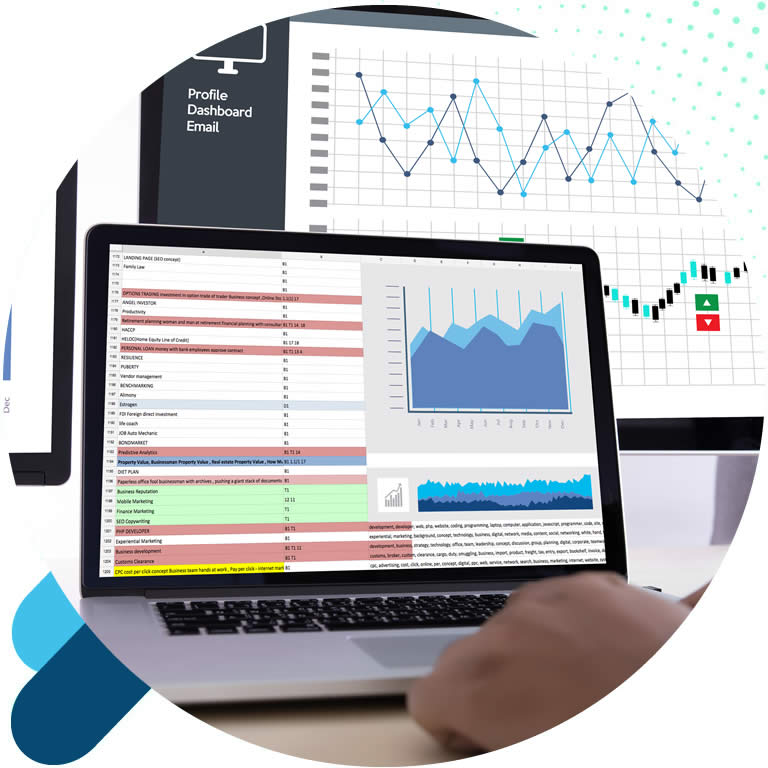 Microservices
Due to your data integration demands and our microservice compatibility, you can deploy your data flow in any form of your choice, including Containers, VM, Physical and Kubernetes
Stream Processing
Generate event streams, enable SI runtimes and output to NoSQL or RDBMS sinks with a wide range of event sources and monitor them via a smart streaming integrator profile
Visual Tools
Allow your team of data practitioners to use a command-line interface or API management layers to interface data usage to be easier, faster and more user-driven.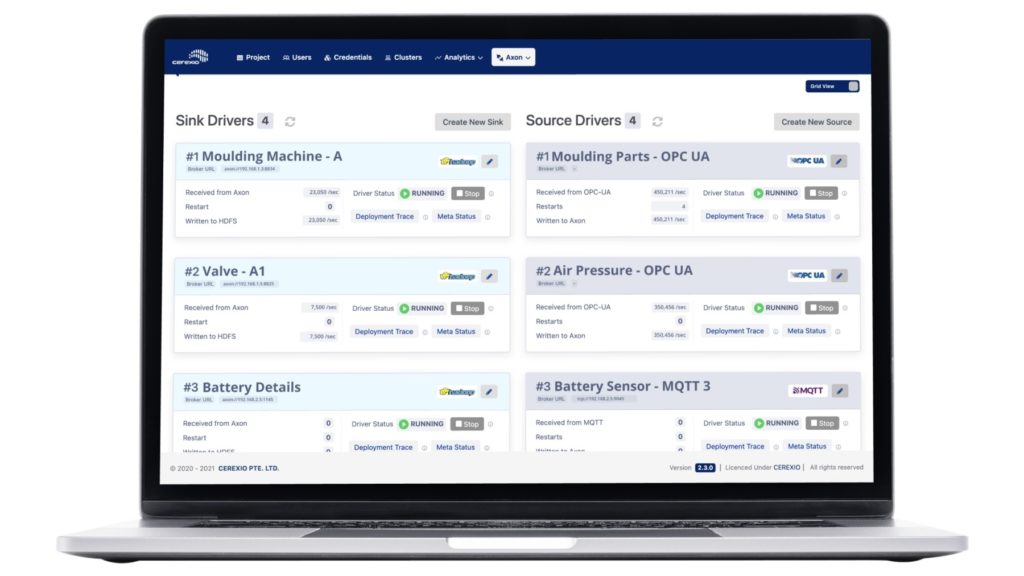 Why Choose Cerexio Enterprise Integrator?
Why do you need the Cerexio Enterprise Integrator?
There are many reasons why you need a unique, innovative and user-friendly integration platform to optimise your IT ecosystem.
The New Maximum Power is in A 'Complete ONE'; Therefore, Compete and Win with Seamless 'Integrated Experiences' with A World-class Enterprise Integrator
Cerexio Enterprise Integrator supports organisation-specific configuration and hyperfast lightweight integration runtime. It enables a single roof for all your integration requirements, starting from protocols, databases, standard SaaS APIs to core systems and more. Here are some of the most remarkable features of this new-age technological solution for data-driven organisations.
A Codeless Core for Integration
Employ user-friendly drag-and-drop gestures on a graphically developed environment to design, engineer, debug, diagnose, test, deploy integration pipelines easily; all integration functions enabled in a single console
Soaring CDC and ETL Capabilities
Meet the future of streaming integration by adopting Cerexio Enterprise Integrator to extract, control and process data streams and manipulate and direct them to their destinations faster and effectively.
Deploy in Any Form
Due to the universal supportability with microservices, Cerexio Integrator can be enabled in any cloud-native form, including Prometheus, Docker, Kubernetes or more, to enable light and container-friendly runtimes.
Irreplaceable Enterprise-grade Microservices
Execute Cerexio integration runtime to efficiently employ ubiquitous microservices that compositely wield the capabilities of low-code integration technology to get the best use of microservice architectures.
Uninterrupted Communication
Upgrade your applications to straightforwardly communicate with databases, SaaS applications, and B2B systems with our patented integration connectors that are resilient to any external or internal system integration limitation.
High Frequency Data
Due to the resilience to the limitation of message-heavy platforms, this solution is highly-compatible in manipulating high frequency data. For instance, it can be employed as a hyperspeed financial trading platform that streams 1,000,000 messages/sec.
Leaner Integration Runtime with ESB
Deploy your integration as an ESB service to facilitate digital transformation, message mediation and routing, service orchestration, smart API and service hosting and more, based on your required integration patterns.
Universal Integration Connectors
Make your enterprise architecture rich with data by connecting OpenAPI or SOAP standards, DBs, SaaS APIs (S3, SQS, Salesforce), SAP Systems, Files, protocols (AMQP, JMS, HTTP, gRPC, Kafka) and more via the built-in connectivity supporters.
Any-Cloud Deployment
Cerexio Enterprise Integrator is supported by any type of cloud platform (private, public or hybrid) including Kamatera, phoenixNAL. pCloud, Azure, Google Cloud, IBM Cloud, Rackspace, Indium, AWS, Oracle and more.
Digital Transformation Your Organisation Today
Our Experts Ready to Help You
Cerexio Enterprise Integrator
How does Cerexio Enterprise Integrator help you connect all the dots?
Cerexio Enterprise Integrator can be enabled as a streaming or microserver integration for it is an open-API, cloud-native, distributed, hybrid solution that supports all enterprise data integration requirements of your organisation. It supports ESB, stream processing, API connecting and other data functions that facilitate in ameliorating the development of organisations towards digital transformation. Here are some instances where this solution will support your organisation by connecting the missing data-loud dots.
Enables Interconnecting miscellaneous backend systems heavy with IT architecture components, including on-prem systems (in-house tools, core information systems, COTS applications), data sources (flat files, databases, warehouses, lakes), hybrid systems and more.
Depending on the deployment requirements of your organisation, it can blend in and be deployed in an IaaS (virtual machines), physical hardware, container orchestration platforms like Mesos DCOS or Kubernetes or in a container platform like Rkt or Docker.
Enables a combination of new tools to support task scheduling, activate message supporters, allow proxy services, streamline data services and other event-driven data stream manoeuvring tools to enable seamless data influx and transmissions.
Capabilities for enabling organisation-demanded data connectivities via hybrid deployments, hybrid integrations, runtimes trained under realistic data events, and optimised, container-friendly integrations with the fastest startup times and low-memory footprints.
Interconnect manufacturing machinery's conditional and structural metrics to the enterprise decisions to get fact-based analysis on your OEE levels. It can integrate the asset profiles of a myriad of industrial equipment including AMR, AGV, RGV, IGV and more.
Cerexio Enterprise Integrator
Benefits of Cerexio Enterprise Integrator
Cerexio Enterprise Workflow possesses many benefits for its users and developers. Starting from setup, development, building and running, improving and publishing, this integrator technology offers benefits that help the organisations to tailor meaningful and success-driven data integrations for better decision making and faster insight-generation. Here are some of the benefits of this solution that you cannot miss.
House Integration Artefacts
It allows automated image baking from an MI-based image to a container image using the best integration artefacts enabled by the tools patented by Docker, Cerexio and Packer Container.
Easy Deployment Manifests
Containerised images can be easily deployed for staging, allowing the developer to manifest the deployment on any cloud platform based on the organisation's preference.
Test Scripts, Artefacts, and Re-Deployment Manifests
Run test runs and mocks to iterate and improve the manifests and debug of fix issues using Apache JMeter, Micro Focus LoadRunner Professional, Postman, SOAPUI and more.
We are The Best in Improvising Development
Your organisation can live on organisational development because Cerexio Enterprise Integrator is the perfect match for any data-centric business.
Serving Integration, Today and in Future
Transform your approach in operational technology to fit the technology advertisements that will be more relatable and recognised in the future.
One Data Format to Another
Allows you to seamlessly transform data from any format to another any format! It's super easy and supports JSON, XML, AVRO and more.
Correlating Data Streams Intelligently
Create aggregated and stream-friendly data pipelines by combining sources with custom functions and inline calculations.
Faster and Success-driven Insights
Join, filter and modify your data streams via time-series aggregations and temporal windows more to derive insights optimally.
Contact
Request A Free Demo/Consultation