Solutions
Cerexio Digital Twin System
Leverage the power of industry 4.0-defined Digital Twin Technology to mimic your company's critical physical components starting from infrastructure to industrial machinery and factories. Cerexio is a well-seasoned digital twin solution enabler for asset-centric organisations around the world to engineer, deploy, manage, overhaul, and replace assets with hands-on visualisations. We offer both 3D and 4D planes for asset decision-makers to manipulate real-time asset virtual models to get prompt insights and crystal-clear understanding before executing asset decisions.
Real-time 3D and 4D Digital Twins With Cerexio: Wield The Power of A Virtual Visual Copy
Simulations and Event-driven Decisions
The user has the luxury of scaling the digital model's parameters and coordinates to fit certain events and using AR or VR technologies to investigate the behaviour of the asset at any given event.
Smart Planning and Optimisation
Identify potential issues and gain real value by making advanced improvements, while anticipating future operational issues based on visualised designs, real-time data collection, simulations, IoT and predictive maintenance.
Operate and Monitor Interactively
Be prepared and well-equipped to make data-informed decisions. Monitor and manage operations of an existing facility, site, or system in real-time using an interactive and scalable model.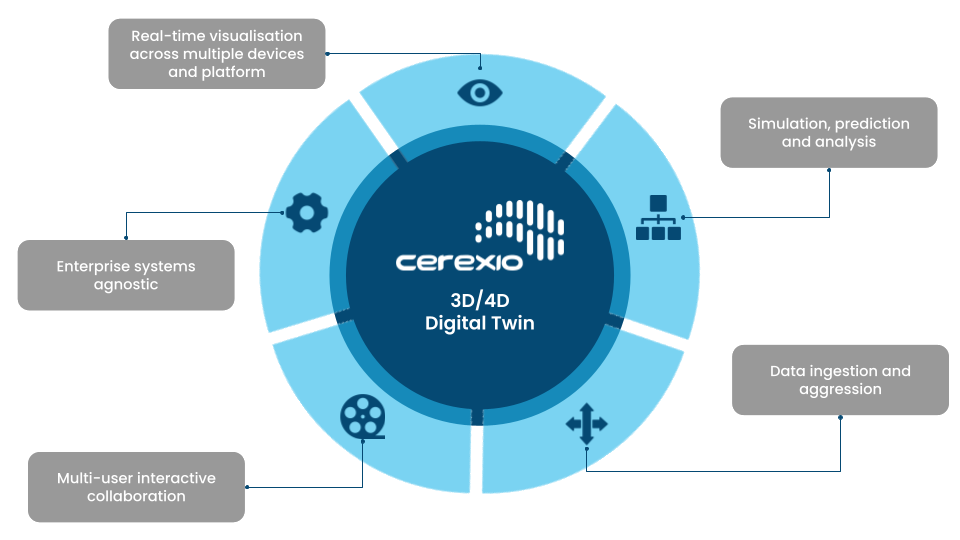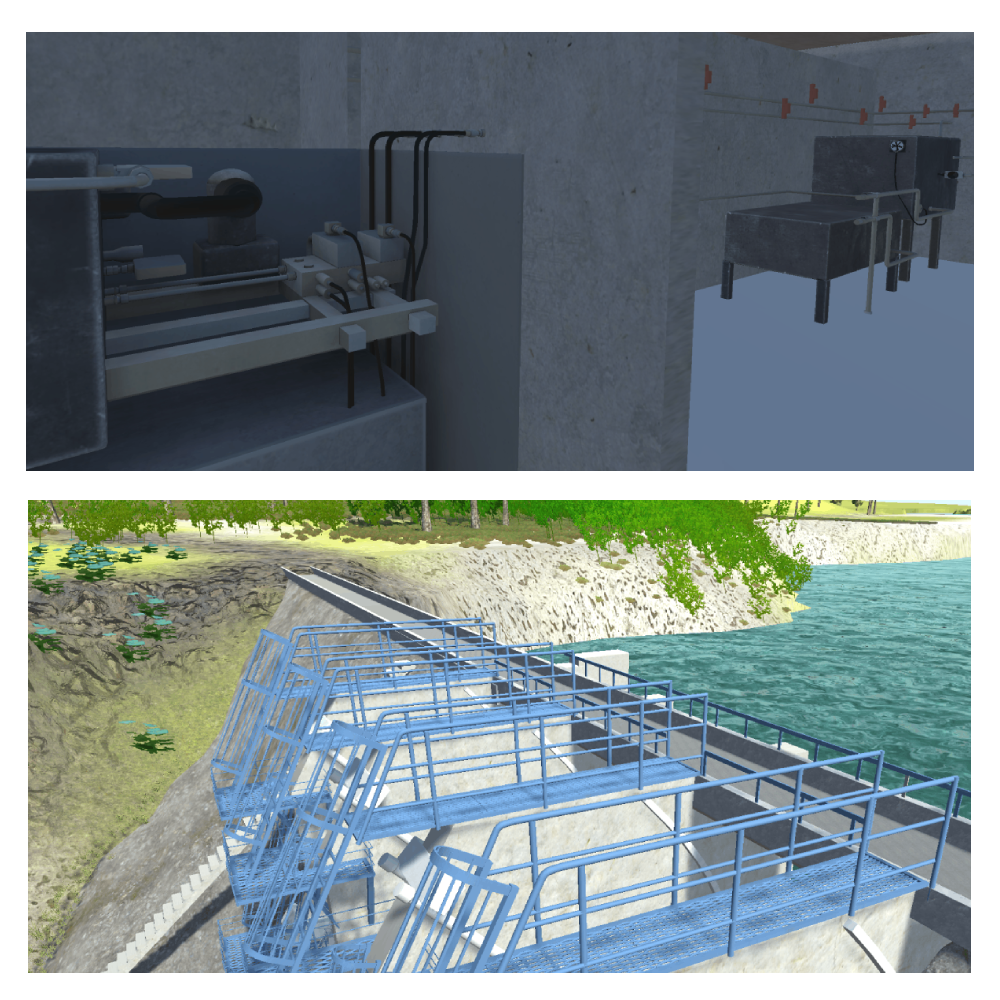 Why Choose Cerexio Digital Twin System?
Why do you need the Cerexio Digital Twin System?
Digital Twin technologies are transforming the data-dependent business and industrial world with tangible benefits and consolidated visibility. Here are a few reasons why Cerexio Digital Twin System is unrivalled.
Reimagine Your Future by Gaining The Deepest Insights to Make The Best Out of Your Asset Performances, Conditions and States under A Single, Multifunctional Glass Plane.
Get a digital copy of your impending organisational milestone and create a robust and fact-based roadmap to meet them with the Cerexio Digital Twin System. Familiarise yourself with the key features of this industry 4.0-recognised solutions to maximise your OEE levels, boost ROI levels and optimise the productivity of your organisation.
Data-Centric Decisions and Predictions
Use our digital twin technology to aggregate all your data in a single point to represent your system. Cerexio's proprietary prediction technologies can give input to the simulation with various operating conditions.
Upheaving The Performance of Mechanical Equipment
Develop accurate virtual models of critical industrial equipment like jet engines, turbines, industrial fans, valve systems, compressors, buoys and other mechanical assets by allowing asset managers to establish event-driven maintenance strategies.
Data-driven and Transparent Asset Decisions
Cerexio Digital Twin System enables a single source of centralised truth about the asset counterpart it represents. It shares real-time information on end-to-end asset operations for asset management teams.
Accelerating The Journey Towards Manufacturing Excellence
Facilitate ubiquitous end-to-end operational, managerial and administrative stages. We can tailor your digital twin to comprehensively mirror the end-to-end product life cycles, plan processes and represent the total cost of ownership of all assets under one screen.
Agriculture 4.0 with Cerexio Digital Twin
This solution enables the necessary visualisation required for smart farming. It can decouple the physical flows from controls and planning and facilitate farming activities like arable, dairy, livestock, organic vegetable, fruit farming and greenhouse horticulture.
Unchallenged Control Over Infrastructure on Elephantine Footprints
Cerexio Digital Twin System is developed to represent accurate models of expansive and elasticised systems like water, wastewater, road, rail, oil and gas pipeline infrastructure. Users have the luxury of getting a city-wide view of these asset-heavy systems.
Event-driven Urban Planning
Cerexio Digital Twin is the perfect tool to develop the upcoming era with the best urban development systems. It assists civil engineers, government establishments, state organisations and other decision-makers in enabling safe, technology-driven cities.
Best R & D Technology
Most academic professionals like researchers, scientists, experimentalists and students plus recreational professionals. It propels in enabling insights needed to enable refinements, innovate and deploy future-proof products and services.
Save Time. Save Money. Save Effort
This solution enables simulation-based 4D planes powered with optimally-trained AI protocols that help you to get automatic insights in saving your resources, time, money and effort and help you to be poised in making organisational decisions.
Digital Transformation Your Organisation Today
Our Experts Ready to Help You
Cerexio Digital Twin
How does Cerexio Digital Twin abridge your physical to your virtual?
Cerexio offers all types of digital twins for industrial practitioners based on their requirements, including asset twit, unit twins, component twins, process twins and more. Cerexio Digital Twin System allows you to de-risk your journey towards ultimate asset control in many instances. Here are some occasions where the Cerexio Digital Twin System can help your organisation.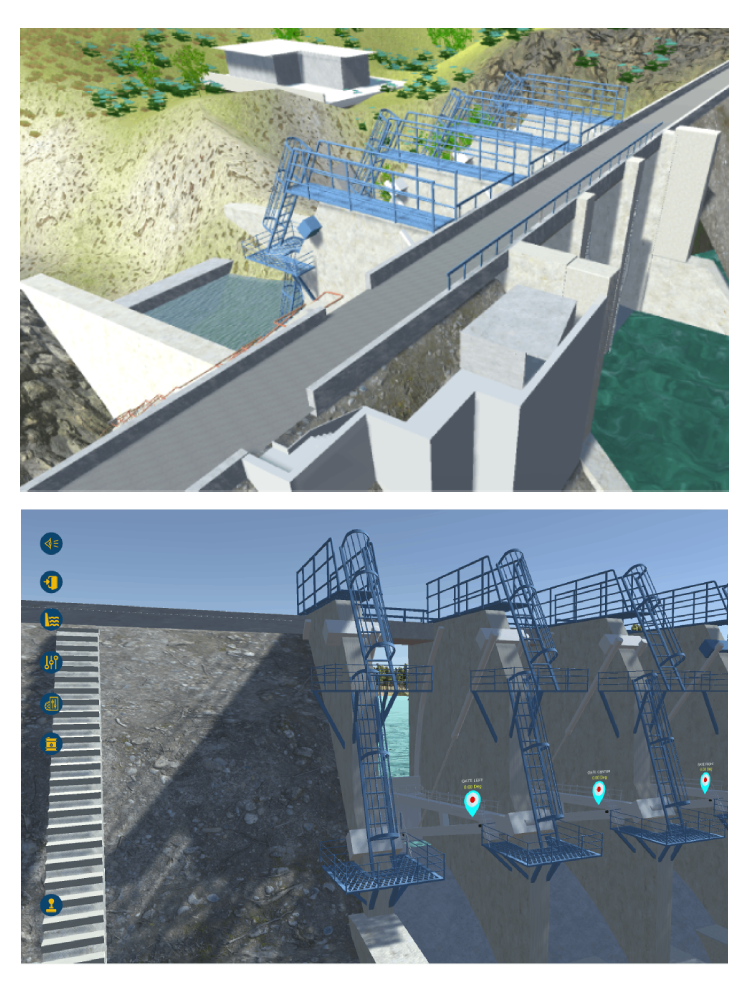 This state-of-the-art solution enables 3D/4D spatial data for engineers to help them diagnose, explore and assess assets, systems and processes virtually.
Use AI-driven dynamic recalibration tools to automatically prescribe production lines, equipment, systems and processes planning and strategies based on optimal event-driven decisions.
Your organisations can gain accurate views on the current, and future functional, structural and conditional changes of your physical systems using predictive technologies.
Let you asset specialists employ the immersive experiences in investigating the current and impending asset issues by using the AR and VR technologies
Cerexio Digital Twin System
Benefits of Cerexio Digital Twin System
Cerexio Digital Twin System's applications enable a digital solution that facilitates the main aspects of physicalities which can be combined and integrated into a scalable platform for more granular visibilities. It can represent an asset, the production of an asset or even be expanded to a colossal asset network. Here are some benefits that you cannot miss.
LiDAR and GIS
Cerexio Digital Twin System enables comprehensive and scalable models of entire asset-heavy environments with completed integration with ArcGIS interfaces and LiDAR data representations extracted from satellite data technologies.
Simulation
Cerexio Digital Twin System can be deployed as a simulation tool that represents life cycles of assets, highly critical components in an industrial process, system-scale risk-mitigating scope, or even virtual represents the indexes of entire end-to-end processes.
Deploy Anywhere, In Any Way
Bolster organisational success despite the complexity, dynamicity or criticality of events! Our Digital Twin has proven to facilitate projects in the Utility Service, Building Construction, Manufacturing, Oil and Gas Sectors and more.
Supports All Industrial Domains
Cerexio offers Product, Performance and Production Digital Twins that can facilitate all industries despite their unique visualisation requirements. This technology precisely models assets of its products installed in any industrial domain, including manufacturing, utility, Oil and Gas, Telecommunications, Building and Structure, Logistics and more.
AI and Predictive Technology
As the technology is powered by AI protocols plus predictive and prescriptive algorithms, it enables realistic future-driven insights on the physical counterpart it represents. It can predict the structural and conditional indexes, performance metrics and other parameters of the asset.
IIoT-driven Interconnectivity
Leverage the data-rich interconnectivity of your organisation to facilitate immersive collaborations across a multitude of platforms to help organisations make the best asset-related decisions.
Contact
Request A Free Demo/Consultation