The age of monolithic software developing platforms came to an end with this invention! Cerexio Axon™ Multi-protocol Message Broker is an all-inclusive event-driven system that enables extraordinary scalable and flexible microservices. This patented data technology partitions data streams between consumers and publishers by allowing your data practitioners to check, store, organise, and route messages in real-time. Also, this digital solution can act as a multifaceted platform to build a variety of software without suffering from low latency by simultaneously connecting to many standard open-ended protocols.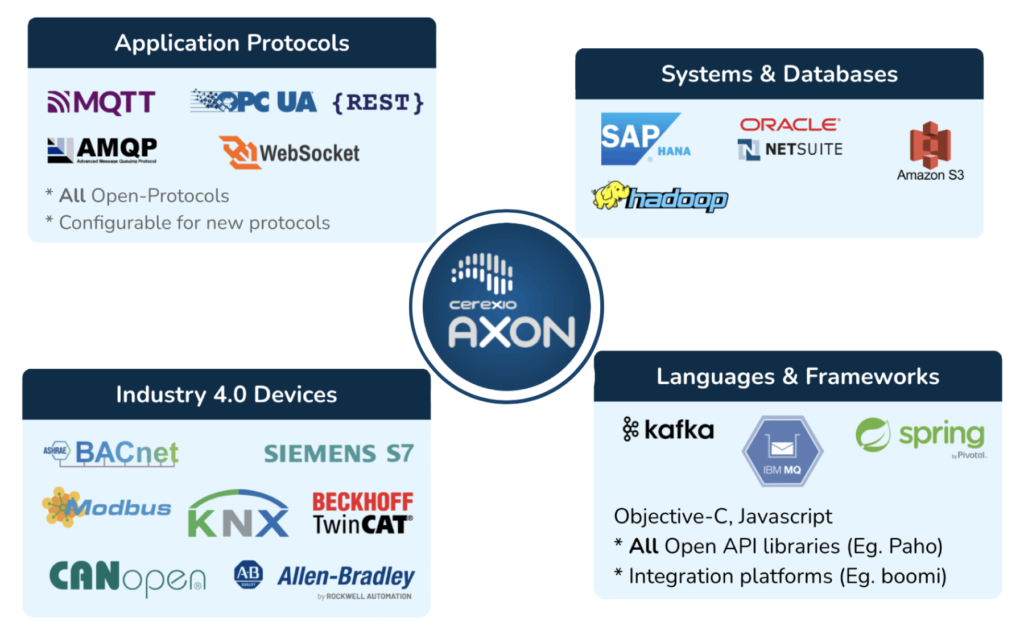 Create Business Value that You Did Not Even Know Existed!
Overview of Cerexio Axon™
Cerexio Axon™ Real-time Message Broker Platform is the world's first to build all real-time systems, distributed and microservice applications. It ensures robust event-driven microservice solutions, the system makes simple and easy distributed, multi-protocol applications communication using Publish & Subscribe (Pub-Sub) and routed Remote Procedure Calls (RPC). Build real-time connections among systems, devices, data sources, data streams from a single dashboard.
Let Cerexio Axon™ Real-time Message Broker Platform handle the most challenging part of data exchange so that you can focus more on your operations and app features. Developed to deliver you a once and for all solution for your data handles struggles between your systems, Cerexio Axon™ Real-time Message Broker Platform ensures a scalable, flexible and secure event-driven microservice solution. It comes with many advanced functions; it supports IIoT systems and Robots to help you be well connected in your smart operations.
Event-driven Data Architectures to Adapt, Innovate and Win with The Power of Data.
Application of Cerexio Axon™
Axon™ for Manufacturing
It is integrable with Manufacturing Execution Systems to act as a scalable interface for all systems. It assists in providing plant-wide visibility of supply chains, optimises factory operations in real-time, and automates processes by securely, quickly delivering messages among all subsystems. Manufacturing floor lines need Axon™ 's message brokers to connect and control multiple systems that will require a robust and stable message passing with 100% data persistence. Cerexio Axon™ Real-time Message Broker Platform can be trusted with equipment installed in WMSs and AGVs in the next-generation manufacturing production lines.

Cerexio Axon™ Real-time Message Broker Platform is specially built for low-latency trading. It handles high data throughput in trading such as 500,000 feeds /sec in standard protocols such as FIX, ITCH, and distributes to different departments in JSON or WebSocket formats. This feature makes it the best event-driven and highly configurable architecture to execute manufacturing and other business operations in a faster, smarter and reliable manner.
Axon™ for IIoT and Robotic Deployment
As an advanced IoT event broker, Cerexio Axon™ Real-time Message Broker Platform maintains continuous connections with millions of devices, intelligently filtering and routing information so that the information is only sent to the applications and tools. This digital solution's advanced message brokering capability enables microservices that promote a boost in agility when developing scalable applications such as banking systems, robotics back-end systems, news media applications, and more.

Its compatibility with all cloud environments- public, private and hybrid, gives IIoT-driven centres an even better advantage. Cerexio Axon™ Real-time Message Broker Platform is readily available in the public cloud on AWS, GCP, Digital Ocean. You can initiate using the service within a few convenient clicks. It is an off-the-shelf solution used for creating event-driven networks efficiently and effectively.
Axon™ for Media
This extravagant publisher-subscriber connector allows youTube multi-connected to all major clouds and your on-premises data-driven systems conveniently. After you configure the gateways and patterns of your messages, the amazing features of this solution will be at play 'without your intervention at all'. It is also available in the Docker Version! Cerexio Axon™ Real-time Message Broker Platform is available on the Docker version for download, and it can be installed on to your private clouds and on-premise environment easily.

You can download and build your personalised real-time event streaming networks as you wish effortlessly. The containerisation uses the Docker version with mobility, scalability and a better grasp of controlling without hindering the seamless online services of media, thus making Cerexio Axon™ Real-time Message Broker Platform easy-to-use, reliable and stressless tools to manage the soaring online demands.
Adopt, Commission, Leverage and Control Your Company's EDA with The Strongest Foundation.
Features of Cerexio Axon™
Guaranteed Message Ordering and Delivering
Any number of messages can be simultaneously published and subscribed to. Approximately 100 Mbps of messages can be published and subscribed in real-time.
Supports Multiprotocol
You can publish high throughput messages to this platform by multiple open messaging protocols and allow them to be subscribed simultaneously by subscribers.
100% Data Persistence in Real-time
100% of data persistency can be guaranteed when retrieving information regardless of the speed of throughput while safeguarding in-transit data
Adaptive Streaming Technology
This platform ensures the high-performance of message throughput via proprietary adaptive streaming technology. Latency-based routing is made sure to have an ideal real-time experience.
Message Delivery Control
Futuristic because it conflates data dissemination for consumer control and dynamic field-wise message delivery. Subscribers will get comprehensive messages than before
Seamless Integration
Connect your data influxes to a myriad of data sources regardless of the complexity of your IT infrastructure. You can connect to data lakes, data warehouses, flat files, databases, applications and more.
Spur Up The Transformation…
Adopt Cerexio Axon™ Real-time Message Broker Platform to equip postmodern distribution algorithms that will continuously maintain a faster network among all servers.
01
Ensure low latency during end-to-end data deliveries with well-trained proprietary microservices to increase the agility of your big data-driven operations.
02
Cerexio Axon™ Real-time Message Broker Platform- the unrivalled, highly scalable platform to enable the best in class event-driven microservices for your data-oriented establishment. To share your concerns
03
Contact
Request A Free Consultation