Solutions
CEREXIO Data Analytics
The one-to-all solution to find the true power of your organisational data. It enables a 360-degree overview of all your hidden actionable insight by enabling the best data analytics and AI on a single system. Use this self-service data expert tool to get quick access to clean and reliable data, preconfigured clusters and multi-language support for maximum flexibility for data science teams. What you want, You will get; because With Cerexio Data Analytics, your data will do the talking for your organisation.
Explore The Hidden Power of Your Organisational Data and Unleash Smart Data-driven Experiences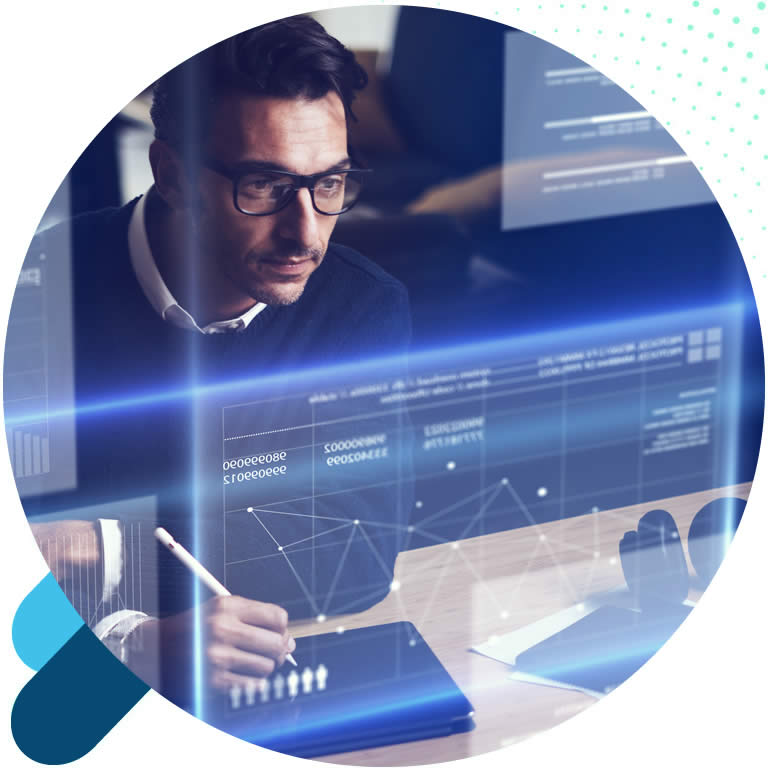 Data Management
With automated and reliable ETL, open and secure data sharing, and lightning-fast performance, it transforms your data lake into the destination for all your structured, semi-structured and unstructured data- making it a smart aggregated data point.
Machine Learning
Make your data architecture less complicated with ML tools powered by data science and realistic training under hundreds of critical data events. They enable finely-managed integrated experiences, including ensuring the reliability and security of data.
Self-Service Analytics
Use interactive features and gestures like 'Drag and Drop', 'Scroll and Pan', 'Tweak', and more can be used by your data practitioners to self -reliantly collect, amalgamate, manipulate, analyse and standardise data efficiently, easily and fastly.
Why Choose Cerexio Data Analytics?
Why do you need Cerexio Data Analytics Solution?
Your smart machines, a multitude of operations, communication lines, websites and other components of your IT architecture are flooding big data into your systems. This is where the need for finely engineered data analytics tools is most needed by your organisations. Here's why you need Cerexio Data Analytics.
Get Empowered with New-age Technologies and Rely on Yourself to Narrate Bigger Success Stories.
With real-time modern data analytics tools, you can weigh out the best insights and share the most adept insights with your stakeholders by organising and managing data to contribute to deep decision-making. Here are some of the authentic technical upgrades that make Cerexio Data Analytics the best of its kind.
Predictive Analytics
Avoid production failures and downtime by analysing real-time machine data, maintenance schedules, and other historical data to predict equipment maintenance needs, impending risks, threats and substandard performances, financial needs and more.
Easily Orchestrate Pipelines
Schedule DLT pipelines with Cerexio tools to enable automated full support for end-to-end insight-ready data pipelines with multiple tasks. Authorate your data and workflows based on the unique, critical data and information demands of your organisation.
Customisable Applications
Fully integrate your organisation's data-rich environment to make all your data-dependent employees work closer, relatably than ever. It infuses fresh and relevant data and unifies the efforts of your team to make efficient data-informed decisions.
Uninterrupted Communication
Analyse structured and unstructured data to enable cutting edge technologies like computer vision to ensure quality control of manufacturing lines. This technology supports all data types and workloads with the best performance, governance and reliability.
Advanced Analytics and Satellite Fusion
Federate remote sensing data sources generated by satellites and integrate them with drone, asset and sensor data to get a clear cut vision of infrastructure conditions.
OEE Dashboard
Use microservices and other application enhancing tools to personalise your data-tackling experiences, to make data management as unique as your thriving business. You can customise applications with embedded analytical tools that promptly deliver data on request.
Ensure Operational Agility
Leverage data and machine learning to streamline operations, predict maintenance issues, and boost supply chain resilience. You can unlock the luxury of smart operating, for it enables amazing data visualisations exactly when you need them.
Real-time Business Intelligence
Serve BI on a silver platter by employing Cerexio Data Analytics Software to automatically and smartly generate BI via consistent in-depth analysis and convey them to the user via intuitive, always-updated and comprehensive dashboards.
Invigorating Data Workflows
Boost your data workflows with reliable, real-time and analytics-ready data by enabling your data management team the tools they need to self-reliantly choose the features they need to execute data flow successfully via engaging visual tools pushed into workflows.
Digital Transformation Your Organisation Today
Our Experts Ready to Help You
Cerexio Data Analytics
How is Cerexio Data Analytics facilitating all your end-to-end data-related situations?
Cerexio Data Analytics is the leading data expert tool for all businesses that rely on their data to make impactful and success-guaranteed decisions. Cerexio Data Analytics Software is advanced with industry 4.0-defined technologies, leading patented tools and other data-related models that can be efficiently and effectively used by data specialists to make the best out of data. Here are a few remarkable instances where this technology will facilitate your organisation.
Cerexio Data Analytics Technology enables seamless web-based modelling that allows your data tacklers to upload amalgamated data (smartly collected from all data points) to join, connect and model your data in an event-driven manner to generate result-specific insights.
Data discovery and data-driven insight prediction are two of the most intriguing features that will help your organisation in forecasting data events, operations and organisational anomalies before they occur. You can use embedded AI assistance, decision trees and predictive tools in making futureproof business decisions.
The deeper insights enabled by this software stack will help your stakeholders get insights proven by data science even if they are not data science specialists. For example, they can pursue accurate time-series insights that are statistically forecasted to elaborate patterns that need to be considered when making critical decisions.
The user experiences of your organisation will be less complicated and easily adapted to the interfaces offered by this data analytics solution. They can use enterprise reporting tools, interactive smart dashboards and other visualisation that are free from spontaneous disruptions.
Cerexio Data Analytics
Benefits of Cerexio Data Analytics
Enable a smart co-pilot for better, event-driven and smarter analytics, confident business decisions and self-reliant data discoveries. One of the most highlighted benefits of Cerexio Data Analytics Solution is that it can be deployed in either a public, private or hybrid cloud platform, on-premises or based on the web. Here are a few more benefits that are open by these solutions for your business to make confident and data decisions.
All Data Maneuverings
Cerexio Data Analytics System allows your organisation to collect Cerexio-powered BI to clean, standardise, connect data and create intelligent models to generate insights and productive data-driven predictions effortlessly.
Proactive Reporting Tools
Create powerful and relatable data visualisation based on the actionable data insights you generate and share them with your peers promptly through email, mobile applications, or web-based communication platforms like Slack, Microsoft Teams, Zoom and more.
You Can See More
The visualisation tools of the Cerexio Data Analytics System allows your business to take BI a few more steps ahead by visualising the precise, trusted and consolidated picture of operations in the now, of the future and beyond.
Autonomous Data Discoveries
Pinpoint the hidden patterns and trends of data with AI-powered tools to get reliable and accurate facts behind your business' data and deliver real-time insights using automated ML algorithms to discover data self-reliantly.
Sensitive Data Protection
Use self-service data analytics tools to adapt your data privatisation and protection rules based on the protection requirements and information-sharing compliance of your business. The smart security protocols and encryption technologies embedded in this software protects your data from being misused, mismanaged, or stolen.
Contact
Request A Free Demo/Consultation