Solutions
Cerexio MES - Manufacturing Execution System
It revolutionises manufacturing facet integration with Digital Twin Technology and Automated Process Scheduling Tools that will help you track and trace your factory-floor operations in real-time. Discover the hidden potentials of your manufacturing efforts and digitise your success by meeting premium overall equipment effectiveness levels faster than ever.
Gain end-to-end control over your manufacturing operations by interconnecting, advancing & automating your processes within a single console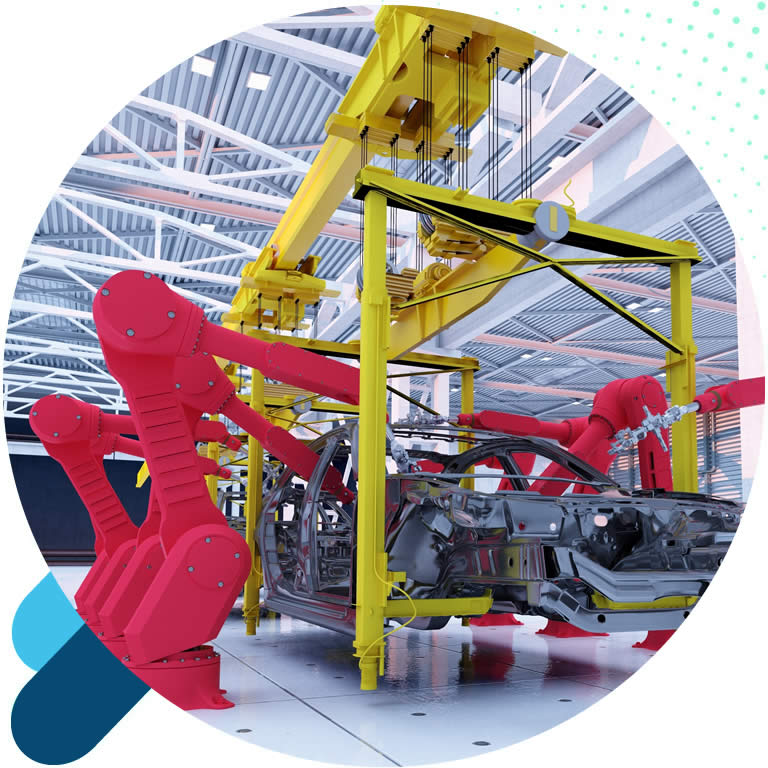 Improve Yield, Throughput & Quality
Use AI-powered tools in our MES to automatically identify the hidden root causes behind inefficiencies that are anchoring you down. Lead the edge of your market with better yield, lesser losses and undefeated sustenance and productivity.
Maximise Labour Utilisation
Get maximum use of plant employees by putting a stop to labour exhaustion and fatigue while increasing retention rates by giving them their own technology counterparts. It is the fastest way towards optimal labour utilisation and lesser workforce attrition rates.
Minimise CO2 Emission & Energy Cost
Cerexio MES is the first manufacturing solution to house smart modules and precise visualisation tools to monitor the CO2 emission rates and help your manufacturing premises have a net-zero footprint conveniently.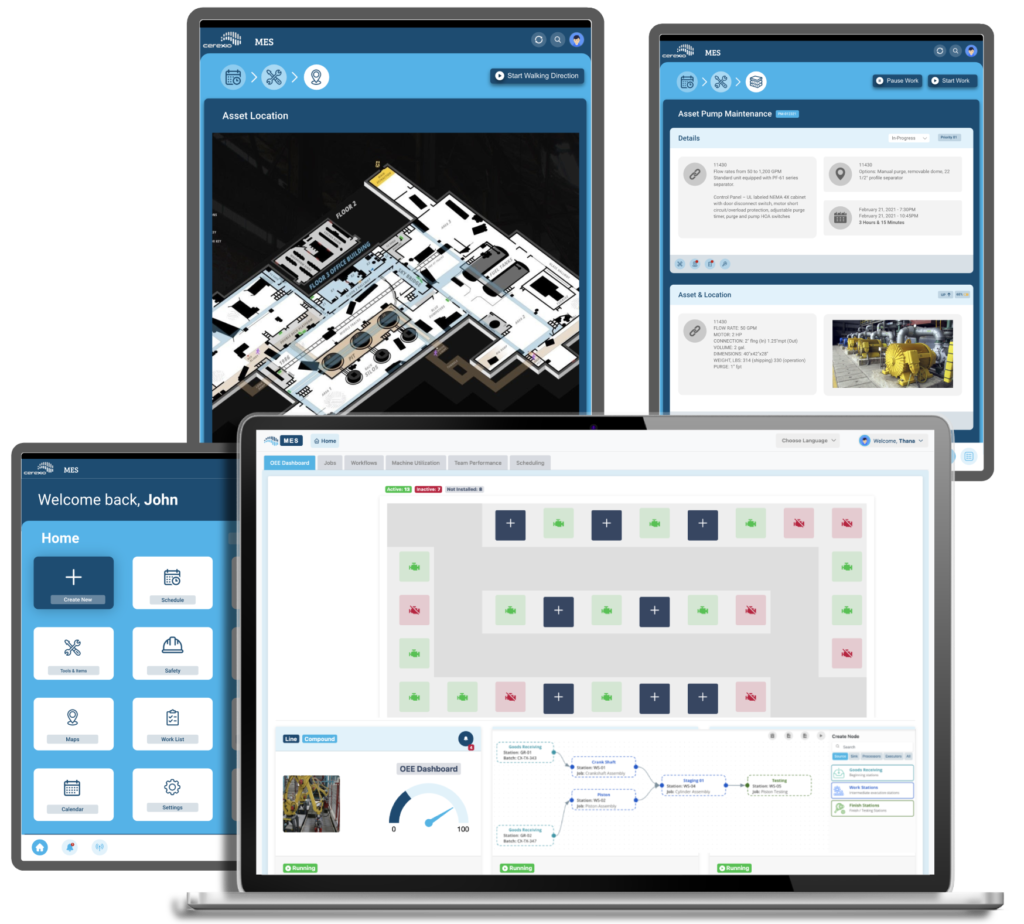 Why Choose Cerexio MES System?
Why do you need Cerexio MES?
This cutting-edge Manufacturing Execution System is software tailored to position yourself to drives forward with tangible values and countless manufacturing opportunities. In the post-COVID impacts, companies are prone to focus more on optimisation and profitability
Redefine The Meaning and Purpose of Your Manufacturing Data; With The Most Powerful and Intuitive MES Solution
Cerexio MES 4.0 is an accumulation of modern technologies that can boost your factory floors' efficiency and effectiveness in a blink. It allows your manufacturing custodians to run advanced analytics by capturing real-time manufacturing data to facilitate smooth operations and punctual order deliveries.
Track and Trace
This technological upgrade allows your manufacturing managers to track and trace all manufacturing processes. It is seamlessly connected to ERP, WMS, Supply Chain Management and other systems for better traceability.
Multiple Machine Interconnectivity
Bring all your in-house equipment (RGVs, IGVs, AGVs, AMRs), PLCs, Machine Protocols and other IT systems in unison with Cerexio MES 4.0's IIoT system management capacities. This capability provides a stronghold for your manufacturing ecosystems to gain ground conveniently.
Automated Root Cause Analysis
Meet the analytical excellence of your manufacturing data by using the data trend analysis tools to find hidden correlations between operational parameters of your mancation centre. This is the fastest way to mark KPIs and train AI models to help you meet success.
Intelligent Scheduling
Data and process-based scheduling allow manufacturing floor operators to manipulate HMI systems to automate processes using the power of trained AI models. These systems use AI core memories to make automated optimisations too.
Updated Serial Control
The in-built serial controller can track the numerous serial numbers of your whole or pieces of equipment. Keep updated status records of where your assets are and how effectively they are being deployed in your factory.
OEE Dashboard
Let your managers employ Cerexio's new-age Manufacturing Execution System to equip the best embedded analytical tools via interactive, configurable and intuitive dashboards to calculate the OEE rates.



AR and VR Technology
Pinpoint your production malfunctions and suboptimal production lines by taking a virtual tour of your production floor. The AR and VR technologies will make sure your factory does not face expensive surprises.
Optimise your Assets
Use a smart and integrated asset management system to gain scalable control over your expansive robot, machine and infrastructure classes under a single console. The AI-powered predictive models will ensure all your assets perform at their best all the time.
Workstation Management​
Make sure that all your workstations are staffed and not stalled. You can use this solution to manage hundreds of workstations on your production floor singularly. It automates product and operational goals astoundingly.
Digital Transformation Your Organisation Today
Our Experts Ready to Help You
Cerexio MES Software
How does Cerexio MES help you?
Many systems are involved in the manufacturing pipeline, such as ERP systems, SAP systems, databases (Netsuite, SAP HANA), Warehouse Management Systems, devices, PLC with multiple protocols etc. Therefore, In order to provide complete MES functionalities along with track-and-trace capabilities, the whole supply chain of the manufacturing pipeline should be integrated on a federated point. Thus, the power of integration must be immeasurable in your Manufacturing Execution Software.
This is why Cerexio MES solutions enable the following MES functions for improving the yield and mitigating the risks of your factory floor.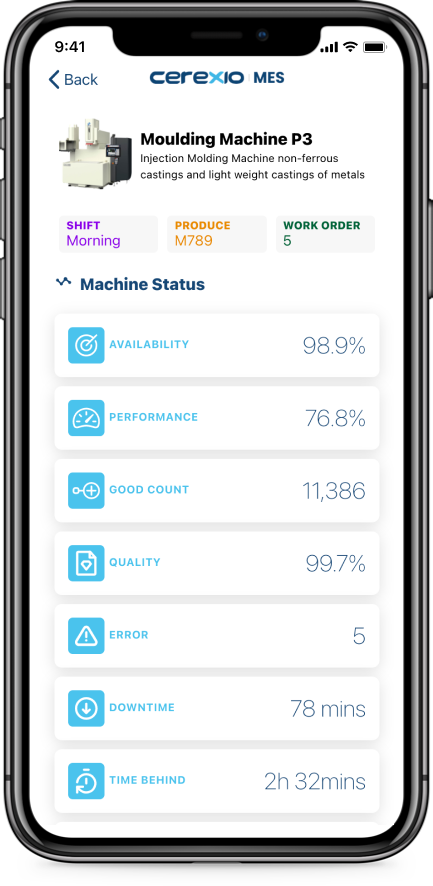 Automatically rule-out root causes of losses out of hundreds and thousands of multi-source data tags to uncover hidden root causes for plant-wide failures and inefficiencies effectively.
Employ a usability-focused smart machine network powered by IIoT technology to employ many types of machines as one solution, including RGVs, IGVs, AGVs, AMRs and other hi-tech industrial machines.
Meet the maximum use of your plant labour not by overloading them with more work but rather with optimum performance to save your organisation's time, cost and otiose effort.
Using cross-process analysis to investigate and track the influence of each inefficiency and represent correlations in a smart dashboard. Learning multiple process events can be optimised regardless of dynamicity.
It enables you to manage your schedules automatically as well as adjust easily with drag and drop gestures and other interactive visibility tools that allow you to leverage manufacturing process data effortlessly.
Cerexio MES Software
Benefits of Cerexio MES
Manufacturing is now becoming more sensor-oriented than ever, manufacturers use sensor-based data analysis technologies and platform applications to underpin their journey towards technology adoption. 75% of the enterprise uses sensors to collect data, but only 20% use big data technologies to analyse the data and improve manufacturing which is a greater disadvantage with time.
But with the advanced scheduling modules, big data and machine learning analytics and world-class visualisation enabled by Cerexio, you can be boundlessly benefitted from our MES solution. Here are some benefits that you must not miss!
A Multi-faceted Solution
Unlike most Manufacturing Execution Systems, Cerexio MES 4.0 supercharges all core manufacturing functions, including smart production process scheduling, enabling data-rich relationships with other systems like Enterprise Resource Planning Systems, automating and elevating efficiency in all facets and more.
User-defined configurations
Orchestrate your production lines based on the criticality of your orders and completely eliminate system idle times. You can now supercharge your order delivery workflows' consistency by having a comprehensive understanding of your resources, order-specific demands, labourers, factory availability, and more.
Smart Employment of Smart Operating Machines
Smart deploy the use of innovative and disruptive industrial machine technology by employing, connecting, controlling, managing and maintaining in-house manufacturing equipment like AGVs, RGVs, IGVs, AMRs, UAVs, RFID Tagged Machines and more to get the best operational experiences in your manufacturing centre.
Become Daily Goal-Reachers

Set lucrative targets and goals for your production floors and inspire your workstations to work, meet and go beyond your corporate expectations. Your labourers can use a gamified application to assess the badges and achievements they received for their hard work.
Smart Factory Optimisations

With real-time visibility and exhaustive decision-making powers, you can expedite your factories' digital transformations to meet the industry 4.0 standards. Make sure all the decisions you take are nothing but opportunistic at every single step.
Automated Abidance to EPA Policies

Environmental Protection Authority policies must be frequently met by all industrial leaders. This is why Cerexio ensures that you do not breach any regulation by guiding your operations with the greenest approaches. Use the power of AI to ensure your carbon emissions are hot net zero.
End to Employee Attrition
Did you know that Cerexio helps you train and retain the skilled talent of your manufacturing facility by allowing safe, healthy and innovative work environments? Use the power of AI to ensure the safety of your employees. This will help you narrow down high employee attrition rates.
Industry 4.0 Features
With process flows chained with data-driven automation and seamless integration, Cerexio Manufacturing Execution Software can interconnect multiple factories at a single point. It utilises industry 4.0-defined technologies like Simulation, IoT, Digital Twin, and more.
5G Enabled System
Cerexio MES solutions pioneers in using 5G technology in manufacturing. Most Manufacturing Execution Systems are still not compatible to withstand the disruptions followed by the advent of 5G connectivity- but not Cerexio Manufacturing Execution Systems.
Security Protocols and Cloud Integration
The security of your sensitive corporate data is reassured by this solution too. It fosters hi-tech security protocols and user access schemas that can allow user entries to the operations platform under regulatory boundaries. Cerexio enables embedded security protocols for secure transmissions and control access.
Data Privacy
The multi-layered, well-trained security protocols housed in the Cerexio Manufacturing Execution System are powered by multi-cloud syncing facilities. They ensure the Overall Equipment Effectiveness (OEE), and seamless integration of manufacturing steps and process flows by privatising data optimally.

This solution upgrades your capacity to be resilient to the six big losses, namely, breakdowns, suboptimal changeovers, minor operational stops, substandard performance speed, startup defects, and rework/scrap occurring due to in-process defects. It simultaneously counters the losses and ensures the best levels of OEE. Therefore, Cerexio MES is a consolidated permanent solution to constantly mitigate all direct and indirect losses of your manufacturing centre.
Contact
Request A Free Demo/Consultation