Solutions
Cerexio AMS: Air Management System
Transform your air management processes by entrusting Cerexio Air Management System - Singapore's only industry 4.0-defined software environment safety prediction in industrial premises. Ensure your corporate and industrial vicinities are not only surrounded by safer and sterile air but also automatically meet EPA and ESG compliances singularly.
Remote and real-time air control systems for sustainable industrial leaders in Singapore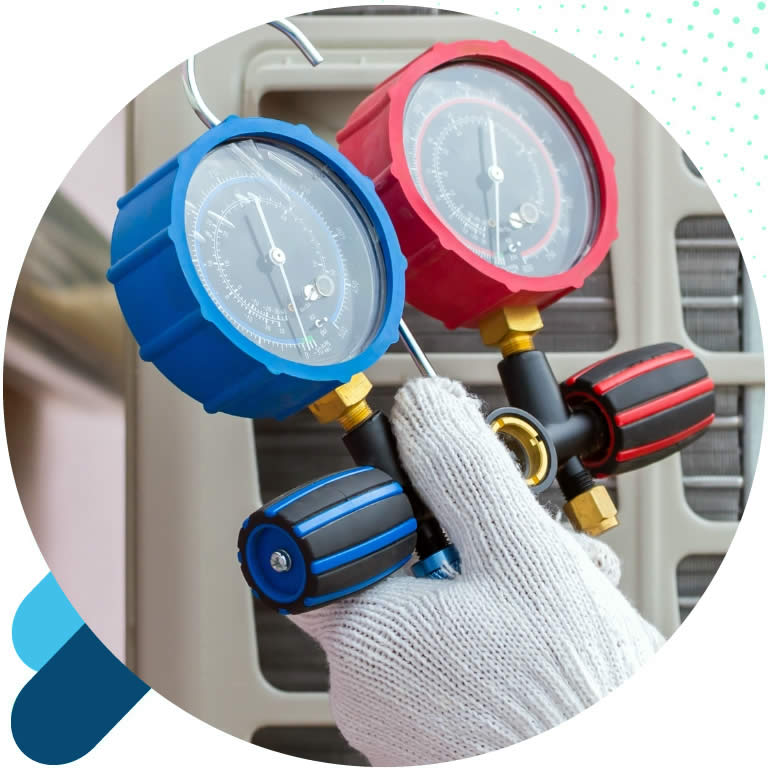 AI-powered Air Predictors
Employ pre-existing, trained AI models of Cerexio Solutions to ensure that all factory processes, equipment usages, and resource allocation strategies are studied for dense emission sources by meaningfully tracking and predicting key compounds and pollutant groups.
Visualised Real-time Analytics Framework
This solution enables comprehensive dashboards with user-friendly visualisation to help air managers of your organisations to have real-time updates on the industrial atmosphere. With predictive advantages, it helps in tailoring prompt risk mitigation plans if required.
Improve Energy Efficiency and Bring Down Energy Costs
The Cerexio Air Management System is the first compliance solution to include hyper-integrative modules and accurate visualisation tools to track CO2 emission rates and effortlessly assist your manufacturing facilities in succeeding to their carbon-neutral futures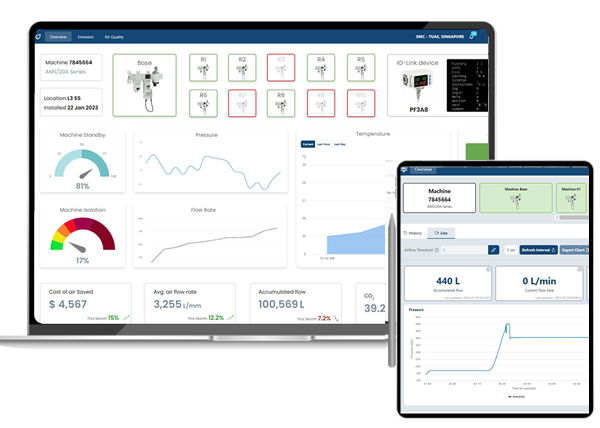 Why Choose Cerexio AQMS System?
Why do you need Cerexio AMS?
Cerexio AMS is an innovative Air Management System that is automated to monitor, quality-check and predict air behaviours of the industrial ambience of your factories, sites and plants.
Achieve the Best Levels of Compressed Air in Your Industrial Arenas With Cerexio Air Management System
Accommodate Cerexio AMS to effortlessly manage your air emission inventories and automate compliance programs for the safety of your workers, company and society at large. Furthermore, it allows smart monitoring of equipment, mechanical assets of the auxiliary system, substations etc. Here are some of the features of this uncontested solution to ensure premium indoor air management in your factories, manufacturing plants, or production facilities in Singapore.
Data-driven Air Predictive Models
Collect information from your historical archives, greenhouse gas information forums, real-time emission tracking systems and other data sources to execute AI models that predict the ambient air statuses and caps of your industrial zones without repetitive human-centred audits.
Compliance Reporting
Track emissions in each point of your factories against the updated regulations, standards and emission thresholds by automating compliance management processes in your industrial premises. These reporting tools convey comprehensive and precise mass balance calculations.
Air Criticality Tagging System
Cerexio AMS enables an interactive colour tagging system to help you understand the air criticality metrics as per machine emissions. Thus, allowing your maintenance teams to take a condition-driven approach to maintain machine emission levels in real-time.
Digital AQI Metres
Data and process-based scheduling allow manufacturing floor operators to manipulate HMI systems to automate processes using the power of trained AI models. These systems use AI core memories to make automated optimisations too.
Condition-based Maintenance
Ensure that all your pollution control machines are performing at their best levels of performance, conditions and statuses by allowing Cerexio AMS to enable smart predictive curves, asset protocols and criticality indexes to automate condition-based asset management programs.
Pressure and Flow Curves
The comprehensive visualisation panels of this solution give the user historical, current and predictive pressure, flow and temperature levels of your manufacturing centres to ensure that your airflow thresholds are observing healthy and environmentally-friendly levels at all times.
Smart Air Hub
Ensure the multitude of air monitoring data sources are rounded up in one smart air control hub to allow the user access to direct air profiles and information. The built-in integration of Cerexio AMS does not leave out any byte of information and highlights data tends efficiently.
Smart Alert Systems
Cerexio AMS makes organising air hazards faster, easier and more effective via a clean Kanban interface. It enables tagging systems, schedulers and predefined protocols that can be filtered by the requestor or addressee.
Machines Standard Isolation Metrics
The overview dashboard captures a bird's eye view of all in-site machines' standby and isolation rates, along with customisable widgets to explain energy savings, consumption and CO2 emission rates. Giving your air quality experts the needful information to meet environmental compliances easily.
Digital Transformation Your Organisation Today
Our Experts Ready to Help You
Cerexio AMS Software
How does Cerexio AMS improve compressed air levels?
Industrial air pollution control and emissions management present several challenges for practitioners. These challenges can vary depending on the industry, location, and specific processes involved. Industrial companies require continuous air control measures to tackle the dynamic regulatory compliances, costs, process interruptions, and energy consumption that impact the premium air rates of factories, warehouses, plants and other industrial arenas.
To make sure they comply with strict health and environmental regulations, Cerexio AMS continuously monitors, evaluates, and regulates the status of indoor or outdoor air to provide a healthy and secure environment for inhabitants.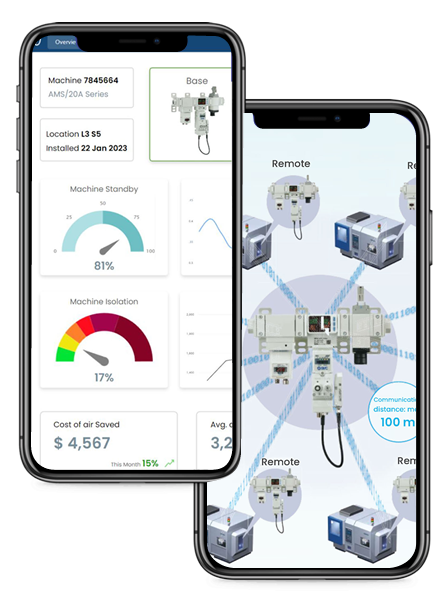 A priceless analytical advantage to deploy, utilise and dispose of industrial machines based on operational requirements and environment-friendly agendas in a remote and assured manner.
Welcome high-performing air quality standards by detecting gaseous pollutants by empowering your pollutant response systems with unchallenged IoT connectivities
Maximising the productivity and health of the in-site workforce can affect the labour retention rates to have safer and breathable environments, inspiring the workforce to be more reliant and lenient.
Employ automated air testing systems with the insights generated by the air prediction systems and study the best air standards measures and promote safer, greener premises.
Save costs on auxiliary systems like lighting systems, gas systems, smoke detectors, heating/cooling systems, and HVAC systems via a green strategy to withhold air pollution.
Cerexio Air Management Software
Benefits of Cerexio AMS
Cerexio AMS promotes air conditions, healthy emission rates and hospitable work environments within a singular effort with the power of industry 4.0 technologies. Meet your industry 5.0 sustainability future with Cerexio AMS' determinate capabilities and grasp the benefits of a sustainable and environment-friendly future for your company. This solution has proven to bring resource wastages, carbon emission levels and wastage to the bare minimum. Learn more of the most not-to-be-missed benefits of employing Cerexio AMS in your existing systems.
Hazard Reductions
This system has proven to reduce energy costs by 20% and emission levels by 30%. The aftereffects of these reductions are cost savings, continuous compliance with EPA and ESG regulations, environmental benefits, powerful CSR values, energy security and more.
Air Improvements
Cerexio AMS has the propensity to increase 50% of occupant comfort and 60% of compressed indoor air of targeted premises. The aftereffects of these advancements can lead to regulated indoor air quality, breathable spaces for labour, lesser wastage and more.
Reducing Air Consumption
This system can reduce air consumption by up to 62%. It allows maximum reduction ratio within product specification. It can monitor the machine's standby conditions and automatically decrease the pressure and air consumption.
Leakage Reduction
Cerexio AMS is known for reducing air leakage to reduce compressed air impacts to regulate air pressure, flow rate, temperature, and accumulated flow by incorporating AI technology to reduce CO2 emissions across the floor.
One-for-All Solution
It is designed to facilitate any industrial, corporate or commercial premises, for it is highly augmentative for any system. It can be deployed to improve the air perspicuity of factories, shopping centres, office complexes, apartments, warehouses, logistic platforms etc.
Precise Emission Tracking
Cerexio AMS continually collects real-time data on volatile organic compounds (VOCs), particulate matter, carbon dioxide (CO2), nitrogen oxides (NOx), and other dangerous substances using a variety of cutting-edge sensors.
Increase Energy Efficiency
Cerexio AMS makes informed HVAC system adjustments using data from its sensors and monitors. By matching the time, temperature, and ventilation rates to the real requirements for air, it can reduce energy waste caused by operating HVAC systems.
Prevent High-Emission Scenarios
Identify any potential high-emission scenarios using this real-time data because the system controls every pollutant, whether it is volatile organic compounds (VOCs), particulate matter, carbon dioxide (CO2), or other dangerous pollutants.
Sustainability in Dynamic Events
Reduce air pressure automatically during brief or extended production pauses, small stops, and periods of reduced activity. As a result, the price of air consumed and the CO2 emissions linked to decreased compressor load can be mitigated effortlessly.
Equipment Status Checking
Equipment status can be monitored from another location or outside of the location (remotely) for important parameters that can be communicated to the host system via industrial Ethernet or the OPC UA data communication protocol.
Total Maintenance Optimisation
With better communication, faster decision and prompt data insights, your pollution management teams can remotely execute maintenance teams to control hazards even before they occur by employing the predictive technologies of Cerexio AMS.
New-age Asset Management
By using data on pressure, flow, and temperature, baseline conditions for devices and other air consumers can be established. Thus making recognising the operational circumstances easier for informed users to take preemptive asset decisions.
Digital Advantages
Cerexio AMS delivers high-resolution data from multiple sources to benchmark air control in multiple factories and machines. Thus, users have the propensity to remotely compare compressed air measures, enabling it to be utilised in lights-out manufacturing sites.
Contact
Request A Free Demo/Consultation