Grabbing the competitive advantage in the market waves and boosting the efficiency of your manufacturing plants are always customarily believed to be a hectic task. Yet it is obvious this myth has now been disrupted after the advent of technology, because, setting standards and gaining more opportunities and strength with a user-friendly solution is made effortless by Manufacturing Execution Systems. Formally, Manufacturing and Execution Systems – or MES- is an information-heavy strategic digital solution used by manufacturing enterprises to streamline the factory operations by elevating the quality standards and productivity rates of factory outputs. However, MES can be regarded as the central controlling kernel of a manufacturing workshop. It uses the technological efficacies to make sure that all your end-to-end factory tasks are done at the right time and by the right people while making sure that your employees are having a pleasant workday. Is understanding what an MES still blurry? Let us give it another go by reading this comprehensive article that probes MES in and out; this informative piece can guide you in apprehending why your manufacturing plant needs to adopt a competent MES.
The Past of Manufacturing Execution Systems
When the third industrial revolution traversed into the world in the latter half of the 20th century the use of computers, telecommunication mediums and electronic equipment made unavoidable disruption in the manufacturing firms. [4] It was at this age the term 'Manufacturing Execution System' was first announced by the Manufacturing Enterprise Solutions Association (MESA) in the year 1992. MESA is a community of global industry leaders, manufacturing specialists and solution providers who refine manufacturing efforts to reap better outcomes. A whitepaper published in 1994 by MESA even explains MES as a 'tool for change'.
The evolution of Manufacturing Execution Systems can be elaborated under three progressions. Firstly, in the early 1900s, MES were static on-premise systems- or legacy systems as we call them today. These systems were only showing current information on the factory floors in lengthy datasheets. The critical manufacturing analysis feature was not backed by the data extracted from such software. Investing in Manufacturing Execution Systems was costly and complicated in this age. Coding the system and purchasing the needful hardware could only be afforded by enterprise-level firms. But such systems are not extinct yet, some organisations who equipped MES legacy systems are still using them since the system is rigidly operated by people who are specialised in working with them. Such enterprises rely on the historical data that has already been stored in the system at the early stages. The two major drawbacks of the initial evolution of Manufacturing Execution System are:
Amending the coding to adapt with change is found very challenging
The company should hire and retain only people who are familiarised with the system, inconveniently filtering out employees with other skills and talents
On the second evolution, MES became less rigid and more flexible. Manufacturing Execution System was futurised by allowing it to be 'modular'. This evolution was allowing the companies to only invest in the required capabilities that they wish to avail in their systems. This feature of personalising the design allowed Manufacturing Execution Systems to be affordable and relevant in many companies for they can cater their MES specifically. Secondly, the modular MESs were not confined to on-premises usage. Because after the advent of internet technology, Manufacturing Execution Systems were accessible from anywhere with internet connectivity. Therefore, MESs become flexible, faster and more comfortable during this stage.
Currently, Manufacturing Execution System is a technologically improved model of the previous models; it uses Industry 4.0 technologies for better integration, maintenance, productivity and quality assurance. Vast assembly lines and a colossal number of units must be simultaneously managed without risking the uptimes of the equipment and declining the decay rates and defects with relevant information- MES does just that. It automates end-to-end factory-level operations making sure that stock shortages and detrimental downtimes do not hinder the workflow of the factory. Predictive technologies, Big data Analytics, IIoT functions, Cloud technology, Digital Twin Technology, Artificial Intelligence, Augmented Reality (AR) are a few of the new-age technologies that assist in making recent MES models intelligent and fully-functioning at all times.
What are the ANSI/ISA-95 standard and MESA model?
ANSI/ISA-95 Standard
The International Society of Automation or the 'ISA' is a regulatory body that studies the standards of instruments and automation in industrial technologies and benchmarks the quality standards expected by each technology. As recent Manufacturing Execution System technologies cannot be distinguished with automation and necessary instrumentation, acknowledging the ANSI/ISA-95, also referred to as ISA-95, is crucial in setting operational and functional standards. The ISA introduced this quality assurance standard to address the following disputes in Manufacturing Execution System:
Overlapping of Manufacturing Execution Systems with business logistics systems, control systems and batch execution systems
Incapable of identifying the correct integrative requirements
Limited familiarity in understanding production quality standards
Inability to follow a reliable benchmark to evaluate and specify manufacturing operations and more.
ISA revised ANSI/ISA-95 under four revisions with recent innovations and trends the standards were set to meet relevant touchstones. The most recent revision was published in 2018. This standard allows the learner to have a well-versed understanding of Hierarchy Models, Functional Data Flow Model, Object Models, Operations Activity Models, Manufacturing Operations Management, Manufacturing Transactions and more knowledge regarding manufacturing. This standard propagates amateur plant owners to be well-versed on how to equip a competent Manufacturing Execution System.
C-MES Model
MESA Models
The MESA-11 model
The Manufacturing Enterprise Solutions Association (MESA) published the MESA-11 model in 1997 that consists of 11 core functions of a healthy MES. This was the first attempt made by MESA to circulate the basic foundation and expected functionalities in an MES. The 11 components of MESA-11 are categorised into vital functions that must be skillfully managed and controlled from the perspective of a manufacturing plant. This model is referred by managers up-to-date to make sure that their Manufacturing Execution Systems are covering the basic areas in managing a manufacturing plant. The 11 functions in the MESA-11 model are briefly explained below:
1. Operations/Detailed Sequencing
The work-in-progress or finished goods must be sequenced according to their characteristics or attributes to understand the process cycle times better and schedule the equipment to have less idle time.
2. Dispatching production units
The manufacturing plant must sequence dispatching goods (or semi-goods)and organise them in the form of jobs, work orders or batches; this function helps in mitigating buffer management and allows the factory processes to streamline.
3. Product tracking and genealogy
The manufacturing plant must unravel real-time visibility of factory-level work; this will not only allow the managers to trace the minute details of the units at any point but also contributes to collecting historical records as well.
4. Labour Management
This is a function specialised in tracking the statuses of the personnel in charge of the factory work. Work periods, attendance and other activities such as tool room work and preparation times are all being monitored by managers to assign optimal work allocations to the right talents.
5. Quality Management
This function addresses probing the product qualities by quality assurance personnel who later recommends maintenance actions that correlate to any anomalies detected in the quality of the products. Some quality assessing tasks are SPC/SQC tracking, LIMS analysis or managing off-line inspections in operations.
6. Maintenance Management
The manufacturing managers must track and guide activities to healthily maintain the equipment and tools to evade asset-health disputes, while not deviating from the pre-planned schedules. Past directories can be referred to when carrying out this function to understand the times of defect and treated through preventive or periodic maintenance.
7. Resource allocation and status
This function focuses on the overall management of end-to-end factory resources and required documentation to proceed with operations. It analyses the setup and availability of resources to make sure the factory procedures will not stall in half-way through.
8. Document control
The factory managers must hand all factory-related documents and compare the 'as planned' documentation and historical data with 'as-built' reports. After the comparison, the managers can circulate the required instructions to the shop floor regarding operational changes, corrective actions, environmental changes, health and safety measures and more.
9. Performance Analysis
The actual manufacturing results must be closely supervised and updated in real-time to promote the desired business results. In this aspect, all information gathered from the other manufacturing functions is used to measure the operational parameters. The current evaluation of factory performance is reported as an end-result of this function.
10. Process Management
This area makes sure that decision-makers or automated systems take measures to inform operators of remedial action to elevate the in-process activities. Such activities can either be inter-operational or intra-operational. It enables the interfaces between smart machines and MES through data acquisition.
11. Data Collection and Acquisition
This function addresses how data acquisition models act as an interface link to grasp the parametric and intra-operational production data to prepare forms and records of product units. Data collection and acquisition can either happen automatically or manually from the equipment in real-time.
With time and technological advancements, MESA-11 was expanded to another level by MESA, for it acknowledged business operations and not only factory functions are vital in improving manufacturing executions. In 2004, Collaborative MES or c-MES model was introduced to illustrate the importance of working with the other departments collaboratively rather than operating the factory in solitude. Compared to MESA-11, it additionally focuses on enterprise-level functions and services such as customer service management, logistics and supply chain management, compliance to regulatory standards, enterprise-level finance, performance and control management and product-focused protocols. It considers external influences that affect the business outside the plant, like market demands, competition and outsourcing. The reason behind this amendment is mainly rooted in Manufacturing Execution Systems being more flexible and modular after programmers developed packages using modular programming, which was especially used at the beginning of the 21st century. Since factory-level operations and business-level operations are relatively interlinked, c-MES became a not-to-be-missed extended version of MESA-11. As results of this model augmentation manufacturing managers who refer to c-MES became:
More considerate about how to integrate information systems using a reliable integration architectures
More concerned about focusing on optimising business operations as much as optimising factory operations
More open to acknowledging the importance of value-creating business strategies such as Lean Management.
Thus, making the c-MES model a better expansion of the MESA-11 model because of its compliance to the technological changes that allowed software to be flexible, integrated and modular. A picture of the c-MES model is given below.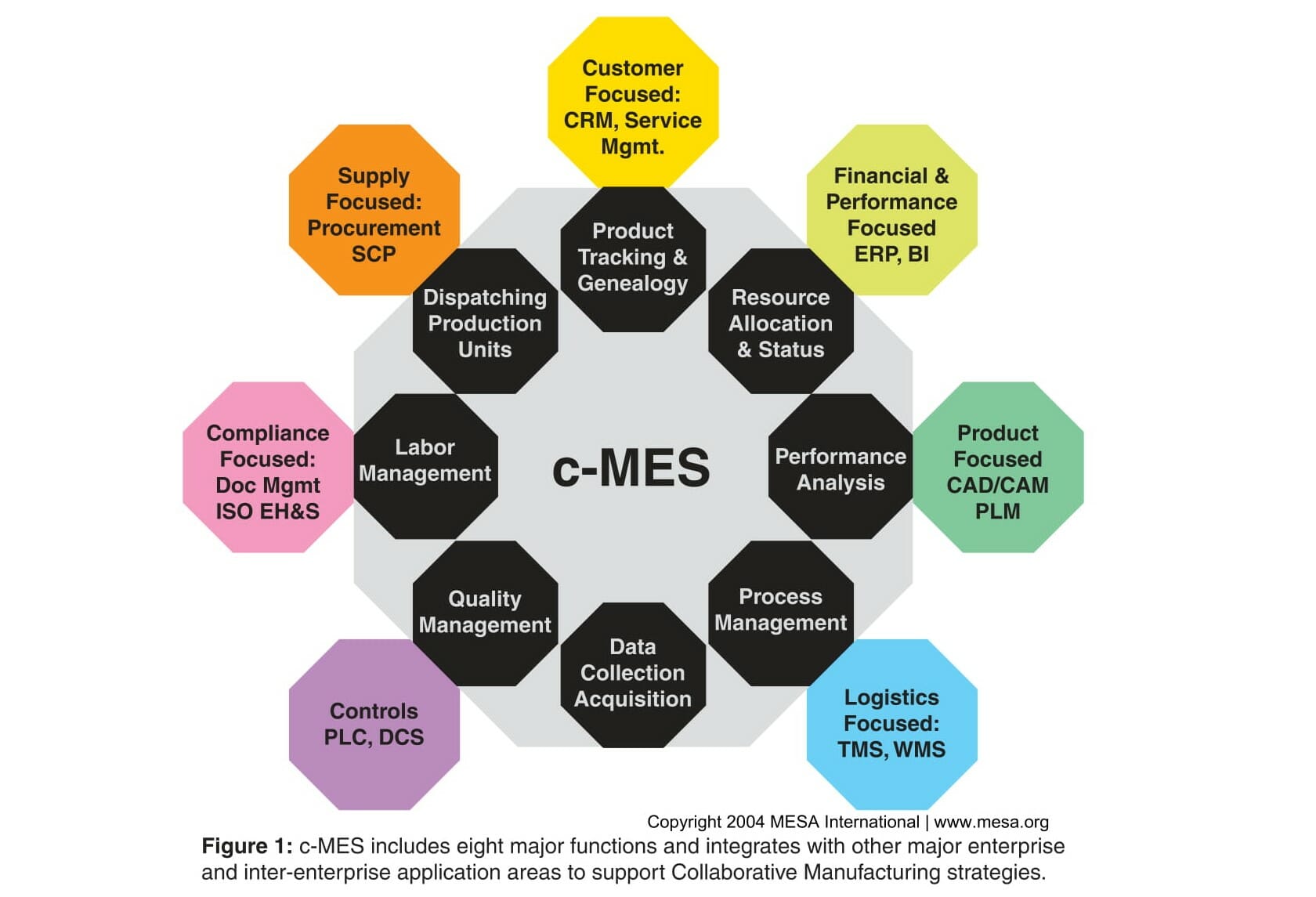 The recent MESA model (Version 2.1)
The recent MESA model is an extended version of the c-MES model that was published by MESA in 2008. It has been tactfully revamped to converge four primary areas of enterprises that fall under the manufacturing industry. These four areas are production, plant operations, business operations, and strategic initiatives. With business specialists creating strategic initiatives to survive in the digital age, not taking them into account is a drawback in the c-MES model. Therefore, the revamped version of the c-MES model focuses on how these four main areas are correlated when performing tasks and meeting common goals. This model is a conceptual illustration of a cascade of objectives. It explains how plant-information affects all other business events and vise versa. Also, how operations and real-time production views would stimulate congeries of enterprise views.
The strategic business initiatives mentioned in this model are:
Lean Manufacturing
Quality and Regulatory Compliance
Product Lifecycle Management
Real-Time Enterprise
Asset Performance Management And
Other Additional Initiatives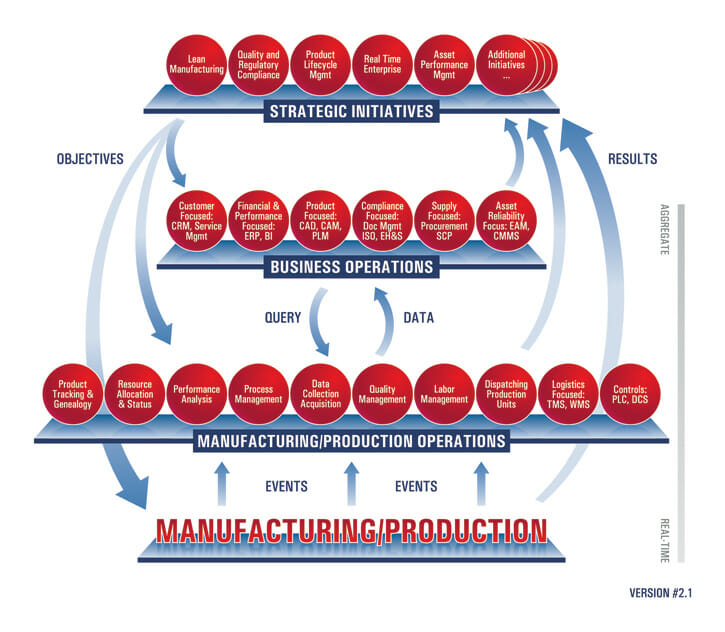 MESA models keep getting modernised with time to make sure that the model encompasses all elements that must be kept under a keen eye to supercharge the efficiency and effectiveness of the Manufacturing Execution Systems' performance.
Therefore, we hope that you will be careful in selecting the right MES that is catered to contribute to all critical areas, by referring to the standards and models that keep you updated at all times.
What are the not-to-be-missed efficiencies of a well-versed MES?
Given below are some of the main benefits rooted by a configurable Manufacturing Execution System that highlights it to be up-and-running in a disruptive factory environment while providing boundless advantages for its users.
Proactive Updates through IIoT system management
The plethora of efficiencies enabled by IIoT functions is much-needed by any Manufacturing Execution System. As MES optimises retrieving real-time stock statuses and operational-level process updates, it must use the IIoT technology to grant factory workers with real-time data and data analytical advantages across the batches of the production lines. All equipment and related assets of the factory flow will be interconnected to accumulate 24/7 real-time data packets. The factory can even use IoT sensor technologies to retrieve information about any individual item within a few clicks. Retrofitting paper reports and lengthy spreadsheets can be replaced with automated cyber-physical information systems that use paperless master logs to elevate the user take-up by increasing responsiveness, relevancy, accuracy and pace of updating data.
Collaborative features
The collaboration of the corporate's departments is mitigated through system integration. An expert MES allows its user- regardless of the department that he/she is based in- to view, monitor and assess everything that is happening on the plant floor. As MES can be interconnected to other digital software surrounding it, the missing links of information can be interlinked to enable different facilities to co-work. This collaborative environment, unravelled by Manufacturing Execution Systems allows the company to monitor the current factory operations thoroughly. MES users can let go of non-value adding activities, supercharge traceability and retrieve electronic batch or equipment data histories to find ways to improve product and process qualities. The data entry, processing and retrieval times can be cutdown needfully because of this feature.
Predictive technologies to Prevent OOS events or machine defects
An intrinsic MES feature that is empowered by AI and predictive technologies is the efficacy of predicting the future degradations of the operations of the factory. Detecting such downcast events beforehand would allow the factory to amend schedules and processes to prevent stock outages and wastages and increase the equipment lifespans appropriately. This promotes the derivation of actionable insights that the factory can follow to decline manufacturing cycle times and follow protocols that facilitate more reliable and more relevant sequence planning by taking asset depreciation, organisational changes and market trend fluctuations into account.
A transparent vision of plant-wide operations
Traceability unlocked by Manufacturing Execution Systems must be given special consideration when talking about the benefits of MES. Manufacturing Execution Systems allow the user to view and monitor the complete production execution processes effortlessly. All plant-wide operations can be assessed, analysed and revamped using trace analysis to diagnose root causes for specific defects and resolve issues in shorter periods. Fascinatingly, Manufacturing Execution System allows real-time tracing of any product, equipment, batch or assembly line at any time in anyplace.
Improve Productivity
One of the most significant benefits in most MESs is the quality of optimising productivity rates of an organisation. With better ulterior control in operations, proactive updates, undistilled operational viewing and integration with other systems, uplifting productivity and profitability is not very challenging to Manufacturing Execution Systems. The main reasons behind this benefit are the ability of MES to:
Demit overages and wastage of resources
Increase uptimes with scientifically proven predictions
Reduce costs through relevant controlling measures in production lines and inventory management.
Mobile-friendly
Manufacturing Execution Systems can be built to be supported by a mobile version. MES mobile apps will allow the asset managers and plant workers to be updated on the shop floor operations using a phone, tablet or any other mobile device. This feature is enabled only by well-versed software vendors who are capable of developing a lag-free fully-functional mobile app to do all MES tasks.
Core MES modules that you must know
Production floors have dynamic environments. They can be directly affected by the operational nature of the factory or the managerial nature of the corporate. For example, the factory outcomes can be influenced by many uncertain events such as machine breakdowns, quality issues, labour absenteeism, raw material or supply shortages and many other instances. Thus, making the Manufacturing Execution System a solution that must be moulded to sustain in a changing environment while allowing the plants to operate and meet targets without deviating from standards and business goals. Manufacturing Execution System can be developed with interactive interfaces, movable dashboards, customisable field types, buttons and other attractive features. But the most crucial personalisation of MES lies with the choices a Factory owner must make to choose the right modules for the MES. So, what are the modules that can be housed in a Manufacturing Execution System?
Product Scheduling Modules
A Process scheduling tool is an automated operational-based digital instrument used to interface business and control systems to identify the most value-adding production schedules. This is a crucial tool that can be equipped in MES to help Manufacturing companies to glide in the hype and changing trends in the market. It enables a comprehensive overview of operations and prior uncovering of bottlenecks. This digital tool is an indispensable feature in MES because it has the propensity to evade factory vulnerabilities through better utilisation of assets, enabling production efficiencies and simplifying operations with persuasive decision-making powers and more benefits.
Centralised Digital Logbooks
Manufacturing Execution Systems can adopt centralised digital logbooks to eliminate the time invested in data entry in the entire manufacturing plant. These digital logbooks can be automated to extract data from any point of the manufacturing processes in real-time. Once data has been entered and updated in the system, the updated knowledge can be accessible by any permitted department to streamline the operational levels in all departments of the company and not all the manufacturing department. In other words, all documents will be viewed and analysed by employees from different departments with ease.
Process Execution Management Modules
This is a mandatory module for any MES. These modules allow the user to monitor process routings and redefine them if the user can identify better alternative process routing mannerisms. They can also install work guides that can assist the technicians with well-informed instructions. Other efficacies enabled by these process execution modules are:
End-to-end tracking of the progress of each job
Triggering alerts to circulate out-of-spec asset conditions
All-under-one-pane control of the factory floor
Dispatch production jobs without any delays
Skill and Labour Management Module
Modules that are specialised in managing skills of the manufacturing workforce can also be housed in an MES. Employee profiles can be maintained to assess and match the right employee for the right task at the right time. The insights generated by this module will allow you to understand better the skillsets of your employees, mark benchmarks in employee performances, identify new talents and train the existing workforce to meet the organisational goals and objectives appropriately.
Asset Management Modules
The Manufacturing Execution System can use different asset performance support modules to keep track of the equipment of the shop floor the way the factory requires. Such modules would mainly have tools such as:
Machine Monitoring Programs
Allows the user to view the current operating conditions of the assets and the desired levels of services expected in the asset performances. The user can compare these two parameters to monitor the performance rates of the factory assets. This tool allows the asset managers to monitor the Overall Equipment Effectiveness (OEE) rates to gather intel to understand the efficiency of the plant equipment better. The tool would find the ratio of the productive time of the machine when it is fully functional to the Planned Production Time to calculate the OEE.
Predictive Maintenance Management
This tool uses predictive technology to assess past asset failure data, OEE of the equipment and parameters of other forces that are influencing asset health to predict the functionality of the assets. The reliance that the factory workforces should keep on the assets can be conveniently measured using matrices and AI models to determine the number of failures, replacement or maintenance costs.
Asset Maintenance Schedules
Asset support system schedules can be housed in competent modules to make sure that the maintenance teams will be proactively available before the predicted asset failure periods so that the assets can be effectively maintained without damaging the flow of the production line operations.
Asset replacement
By monitoring the asset condition models can determine asset replacement procedures to understand better the scrap values and asset replacing budget allocations beforehand so that the company doesn't have to suffer from over-budgeting resources and frauds and stick to scientifically proven replacement procedures.
Reporting and Data Analytics
Real-time plant-wide data can be extracted to execute ever-ready responsive protocols that are identified by manufacturing analytics tools. The production insights can refine your manufacturing operations to get interactive reports that illustrate asset or product defect rates, desired and current target progresses, and get the key metrics that are useful for all decision-making bodies of the company. Usually, such tools are configurable and can be accessed remotely by permitted parties so that no one misuses the information. After intelligent data analysis and reporting the company can work hand in hand to collaboratively pool in ideas to improve the plant productivity rates and workforce environments at large.
Where can we draw a line between ERP and MES?
If we dig deeper in defining an Enterprise Resource Planning (ERP), it is the hub of connecting the essential functions of a business: accounting, HRM, Inventory Management, Customer Relationship Management, and more into one holistic system to streamline the enterprise-level information flows.
On the other hand, MES is a solution that acts as a complementary backup to mitigate the processes of an ERP in a manufacturing firm. Unlike ERP, MES grasps information of the factory processes rather than the functions of the whole enterprise. Nevertheless, ERP and MES have a significant feature in common, that is 'tackling information'. Given below are three instances where you can clearly distinguish ERP and MES from each other.
1. Signature purposes of the two solutions
ERP is an overarching enterprise-level information enabling system that ties information of all departments together. MES functions in precisely focusing on handling data of the manufacturing operations and controls and allowing other departments to gather information of the manufacturing department through an ERP system.
2. Data capturing methods
Typically, ERP systems inherit a manually-handled unified database to organise, manage and share end-to-end company information. But MES could not rely on manual data input because of the urgency in having real-time data updates for analysis and forecasting plant failures. Therefore, new-age MES use technologies to automatically feed the system with real-time data which have also been provided to the ERP. Automated data capturing reduces the latency of manufacturing data retrievals and keeps all odds in favour of the manufacturing efforts.
3. How they are triggered
ERPs are built upon an economic substructure to manage multiple tasks while being highly responsive to financial transactions. For example, it triggers when a customer plays an order, when a supplier dispatches raw material or when bills or payroll cheques have been issued. In contrast, MES triggers by actions that are strictly confined to the manufacturing phase of the company. Tasks that are conformed due to production processes, asset maintenance protocols and reorder procedures are what triggers the MES to be in action.
Why would you need an MES if you already have a SCADA?
Owning an MES when Supervisory Control and Data Acquisition (SCADA) system exists would mislead a decision-maker to think that an MES is not essential. Unfortunately, that is not the case. It is crucial to break free from this thought because the purposes of the SCADA and MES are different even if they will have to be actively connected all the time.
A SCADA tackles information that is inclined towards controlling the manufacturing procedures and utilising the system with Programmable Logic Controllers in real-time. Even though the info clutched by SCADA is value-adding to the enterprise, it cannot play the role of an MES. In other words, it cannot gather intel about the real-time manufacturing operations that are massively taking place in production processes at the plants like an MES. Therefore, such contradictions or doubts must be clarified and understood before investing in intelligent technologies that empower all the needful systems to facilitate your business. We would recommend that you meet with your software vendors and seek their guidance to correlate information systems that have specific purposes adequately.
A Manufacturing Execution System is a fundamental digital solution that must be equipped by manufacturing firms to stand on a concrete stance that is not fractured by the disruptiveness of changing market trends, fluctuating demands, employees' shortages and more. Manufacturing Execution System is an instrumental part that cannot be dispensed by any plant's operational agendas. It allows manufacturers to provide their customers with the desired satisfactory experiences while improving the compliance in regulatory bodies that affect the functional level of a corporation. With better machine utilisation, controlled and reduced work-in-progress inventories and better agility unbolted by MES, manufacturing companies do not have to bother about limitations to keep up in the industry and having better communication with stakeholders. It is also essential to understand that the evolution of MES will not cease here, it will continue to evolve with new technological advancements because the manufacturing industry is a change-driven asset-heavy industry that mainly relies on technology and innovation. Therefore, MES is always the right choice for your business, regardless of the nature and culture of your manufacturing plant.
With a qualified Manufacturing Execution System, no company takes the risk of being stalled at bay but wields the power of technology to charge ahead of competitors to grasp the best opportunities through innovation and data-driven farsighted investments. Click here to learn about a multi-faceted MES- Cerexio MES (Manufacturing Execution System) & Production Tracking System is the best MES that could be equipped by any Manufacturing Plant with confidence.