Public clouds, private clouds, hybrid clouds and multi-clouds are the four main cloud technologies that any data-driven organisation would easily tune their ears into- given that data keeps increasing in value as an irreplaceable resource for companies to make fact-based decisions. Cloud services cover a plethora of important data-rich aspects of a business, like:
Adopting IT Services
Better HR Management
Calibrating and
Enhancing Cloud Infrastructure
Content and File Sharing for better collaboration
Event-driven Project Management Approaches
Extracting Fact-based Business Intelligence
Improving Data Security and Business Development
Media and Social Media
Optimising E-commerce, Education, Finance and Healthcare of the Company
Promoting Trading and Networking
Tracking Supply and Logistics Operations
Utilising Cloud Storage
Cisco.com said that a majority of global enterprises (94%) already use cloud services and it keeps increasing parallel to the value of the worldwide cloud computing market; it was also estimated by Cloudwards.com that the 2025 cloud computing market would value USD 832.1B. It is also estimated that in 2025 the cloud data storage would exceed one billion terabytes (1,000,000,000,000 GB). With data in the clouds being stored in ample amounts and businesses soaring towards success with cloud technologies, it is important to understand why Multi-cloud Platforms are important for new-age businesses.Today we will be probing what Multi-cloud Platforms are, how they are going to benefit industrial and commercial establishments and why it is no longer a trendy tech but an inescapable advancement for businesses with complex data culture.
What is A Multi-cloud Platform?
There are many renowned cloud service providers like Google Cloud, Alibaba Cloud, Oracle, Amazon Web Services (AWS), Microsoft Azure, IBM Cloud, Salesforce, SAP and more. Suppose a company decided to utilise the cloud services of more than one cloud service provider to enable resilience for seamless operations. For example, if one cloud is lagging or under threat, the organisation can use the backup stored in another cloud and operate till the disaster recovery measures are taken. Multi-cloud platforms are, therefore, integration between two or more clouds- despite their type being public, hybrid or private. According to a research study done by Flexera, this strategy is used by 92% of enterprises to retain their speed and data workloads despite spontaneous data threats and risks. These companies either integrated multiple public clouds or used a blend of both public and private clouds to share computing resources and mitigate the risks of data loss or system downtime.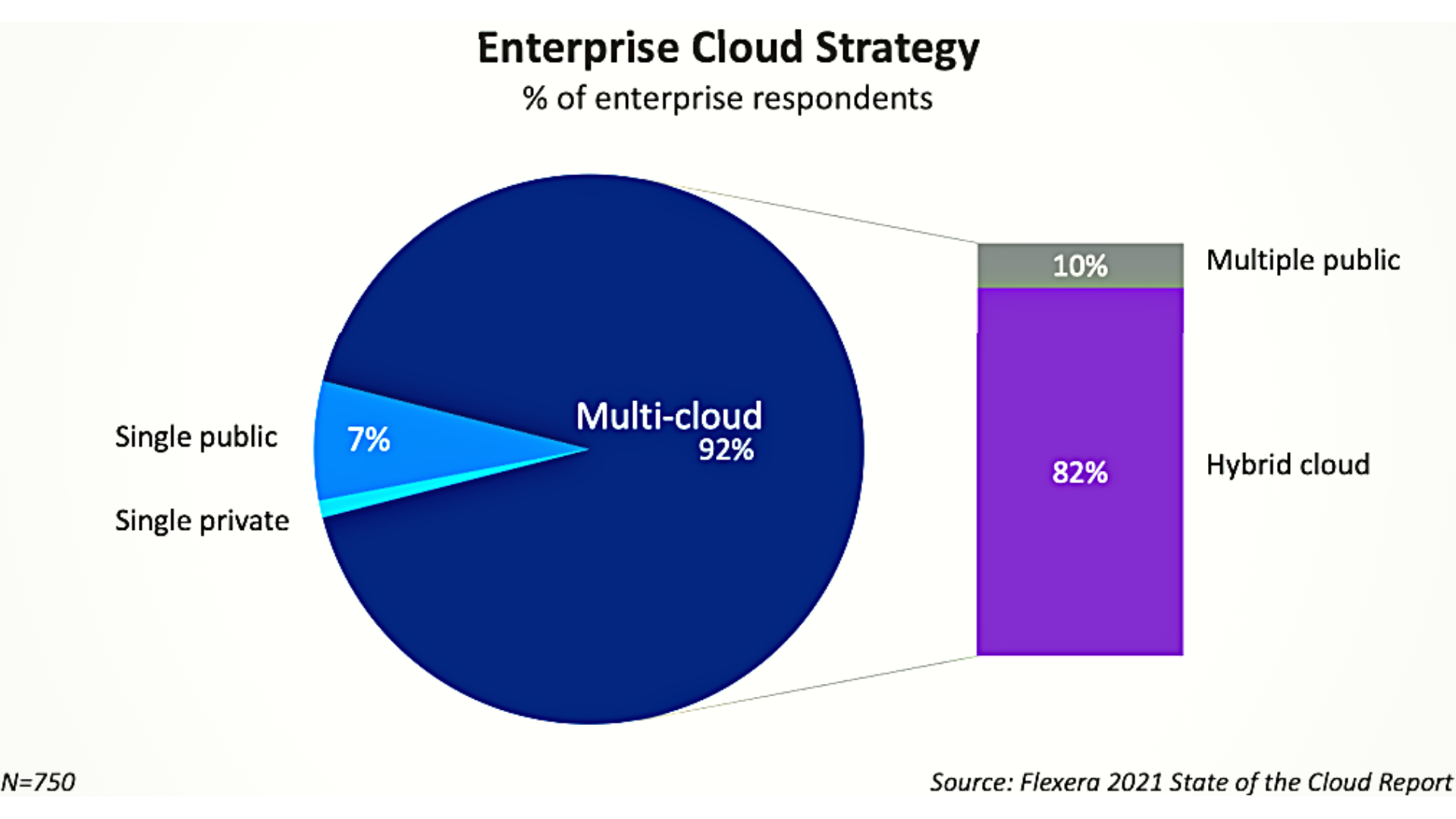 Well-established conglomerates, enterprises and SME businesses and even startup companies use this strategy to optimally utilise public and/or private clouds to enhance and improve their data experiences.
Advantages of Using Multi-cloud Platforms by Data-driven Organisations?
As discussed above, many organisations routinely utilise multi-cloud platforms and adopt the strategy to execute their data-driven processes. But why? Here are some of the main advantages why data-centric organisations use the power of multi-cloud platforms to overcome their data management inefficiencies.
Breaking Free from Vendor Lock-ins
One of the main and obvious advantages of employing a multi-cloud platform is that a business does not have to be retained by a single cloud service provider. Instead, a company can use this strategy to utilise many cloud infrastructures offered by many cloud providers. This way, the company can invest in cloud-native applications based on microservices or containers without using limited software that is 'sticky' to just one cloud platform. This advantage is one of the most compelling reasons why enterprises decide to switch from public, private or hybrid cloud to a multi-cloud platform. Since the advent of multi-cloud platforms, it is logically and statistically proven that organisations of the digital age will willfully and efficiently continue to be pursuing or transforming their work culture to utilise multi-cloud platforms in future.
Ensure Resilience of Data Sources and Centres
Even the toppest cloud service enablers meet the inevitable outages from time to time. There can be prolonged IaaS downtimes or outages or suboptimal performance in cloud platforms, which is why an organisation should not rely on a single cloud service provider. These inconveniences that they suffer might cause damage to your organisation by wasting data, time, and money if it causes a mission-critical application to shut down or be inaccessible. To build resilience to such events, organisations employ this strategy of using multi-cloud platforms to ensure data integrity, timely data workload and scattered data security.
Better Performance with Constant and Exceptional Compliance
The target of cloud-native organisations is to minimise latency. Many organisations utilise cloud services that are geographically close to their establishments. This is because the performance of a company's data ecosystem is inversely correlated to the number of network hops between the businesses and the cloud providers servers. On occasions like this, a company can use multi-cloud platforms to execute seamless data trips and employ mission-critical data technology to integrate a geographically closer cloud service with another. Also, more importantly, they can also use this strategy to ensure compliance throughout the operations.

Companies can meet the essential data governance requirements; for instance, when law's require client data to be stored in particular data storage. In order to comply with their legal requirements, the multi-cloud can be exploited to create and maintain new-age data repositories like data warehouses or data lakes which often requires the service of a multi-cloud platform- especially if the data is copious and cloud service enablers are not geographically close by.
Cerexio Data Hub Multi-cloud Platform
Cerexio offers the finest integration platforms for your company to adopt the cloud services of a myriad of cloud providers of your preference. This cutting-edge multi-cloud platform offers a simplified data journey manoeuvred by user-friendly interfaces that smartly detect data anomalies and offers insights to prescribe better data utilisation strategies in your organisation. Our solution is applied on three main occasions: cloud-driven data journey management, prompt multi-analytic workload management and enabling universal workload integration. 
Connect with Cerexio
 to learn more about why our Multi-cloud platform is the best choice for your data-dependent organisation.
Multi-cloud Platforms Define The Future of Resilient Cloud Computing
Avoiding lock-in by a single vendor is always a good idea for companies in the light of apparent reasons like spontaneous data disasters, cloud infrastructure disabilities or limited tools and features. Therefore, the deployment of multi-cloud platforms in all organisations of the digital age remains to be a close-at-hand development in the recent future. Amidst the diverse data technology requirements and data cultures of businesses, using multi-cloud platforms offers a fluid management strategy for companies to subscribe to cloud computing services to meet unique goals. Thus, this technology is an unrivalled technological luxury that is soon going to be a mandated advancement for most companies around the world.